"I rarely choose the easy route just because something might be hard."
It's a simple and succinct statement of fact, but it also serves as a quick character portrait summing up Dr. Scott Douglas, a 2x NWBA Champion, 4x player for the U.S. Men's World Cup Tennis Team, 3x Paralympian, coach, and Associate Professor at the University of Northern Colorado. 
As a passionate advocate for adaptive sports, in addition to his active coaching life, Scott challenges and inspires his students by engaging them to weave the principles of theory and practice into their work with athletes and above all else, to get out there and start coaching!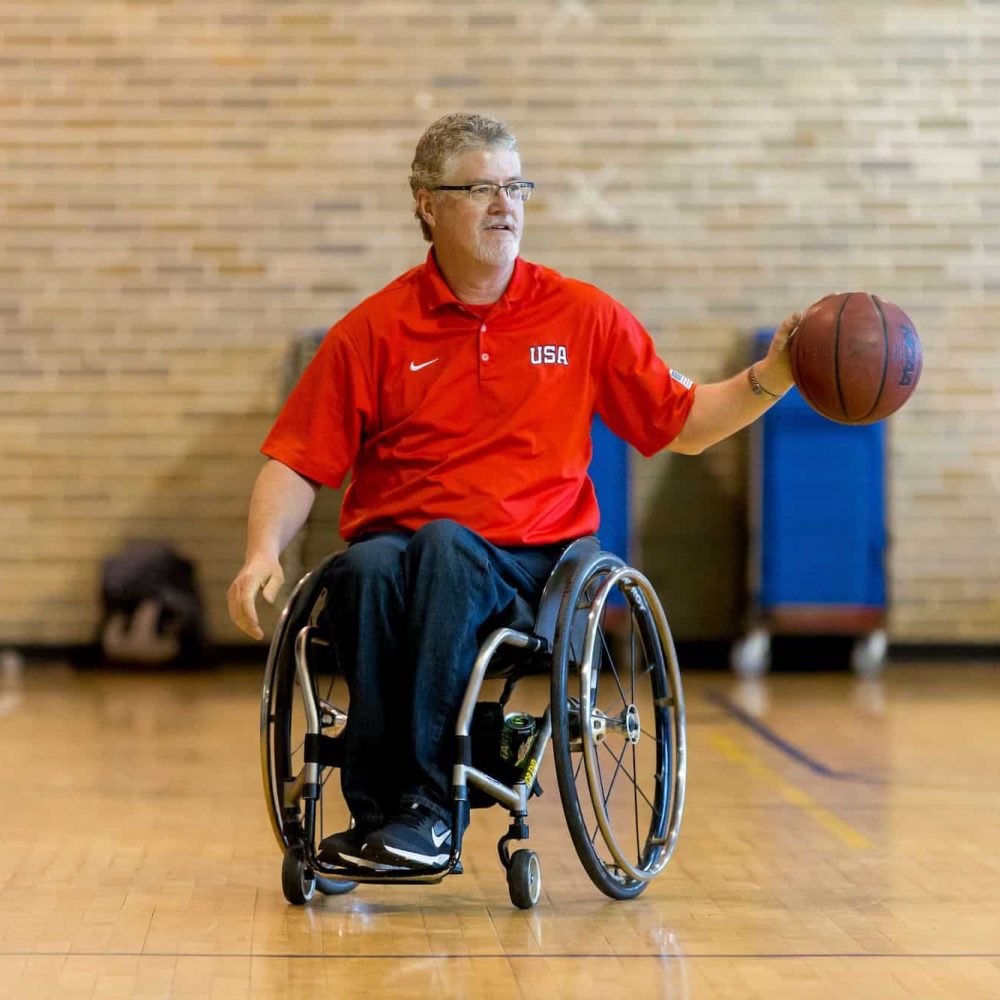 He says,
"I love the role I play in influencing and impacting future and developing coaches through my formal teaching and mentorship. By being able to use my own experiences as an athlete, coach, and teacher-scholar to bring energy and enthusiasm, and an authentic look into what the profession of sport coaching is, or can be."
Scott elaborated,
"I like to introduce new coaches to ideas that challenge 'common' assumptions. For example, in Parasport, the mindset or philosophy of developing what the athlete has, not focusing on what they don't have."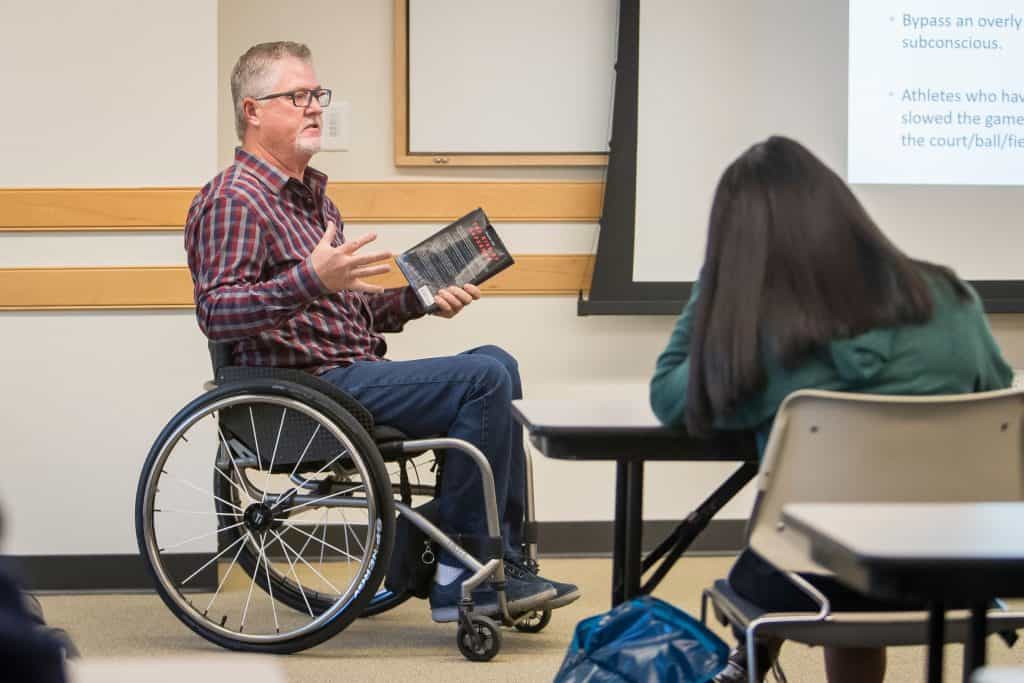 Now getting down to the details of Scott's curriculum; what's in it and how does his experience translate into the classroom?
Scott tells us about the takeaways that students develop during the semester long courses they take with him, saying, "A self-awareness of WHO students are as coaches and WHY they want to coach. Also, the basic fundamentals of HOW to do it. It is also about developing a coaching philosophy rooted in QUALITY athlete-centered coaching. Another objective is to expose students to the reality of coaching… the teaching and communicating aspects that are so vital to the ultimate goal of bringing people together toward a transcendent cause."
"At the University of Northern Colorado it's all about application. We want developing coaches to take what they've learned in the classroom and get on the field, court, or pitch to practice their craft as much as possible."
To facilitate a fundamental knowledge of who his students are as coaches, Scott uses Athlete Assessments' CoachDISC Profiles. Each student completes a 12-minute online survey, to generate their own unique report. The CoachDISC Profile provides students with a fundamental awareness of their own behavioral style, an insight into their strengths and limitations, plus knowledge of their areas for improvement, all within the coaching context. The profiles also detail the pace each individual prefers to tackle tasks, the way they build relationships, communicate, deal with challenges, and information about environments they naturally thrive in. Importantly, each profile delivers an insight into what the individual is likely to do under stress, giving them time to develop strategies which counter these tendencies. Learn more about Athlete Assessments' DISC Profiles in the classroom.
Scott says,
"Self-awareness is the fundamental building block to building a true coaching philosophy and then throughout the development process as a coach."
Athlete Assessments works with Scott delivering a program which sees students develop an applied knowledge of how DISC Profiling can benefit them as a coach, beyond athletic competition, and in the context of their day-to-day lives.
Scott says, "Through the CoachDISC and guest lectures with Liz, the partnership helps me provide the opportunity for my students to begin to build a foundation for their coaching philosophy and coaching behaviors (and style). This is their first chance to self-reflect within the context of coaching, and Athlete Assessments helps facilitate their early growth and development as an effective coach."
Students in Scott's coaching classes come from the full spectrum of sports, he himself has played and now coaches at an elite level across multiple sports. He says, "The commonalities across all sports at the highest level of competition are goal-driven behavior and the corresponding self-sacrifices, the everyday 'quest for better', and an overall thirst for competition and performing at your best at the biggest moments."
We asked Scott what he thinks is the most important aspect of coaching, he says,
"I believe it is knowing and connecting with the athlete. A coach needs to know and understand the meanings behind where they themselves come from and their own biases. More importantly though, they need to know who their athletes are, where they come from, and how they best learn. What are the athletes' prior experiences – both on and off the court. Only then can true learning and growth occur."
Unpacking the coach-athlete relationship that underlines successful sporting partnerships, Scott says, "I try to build relationships and trust in my players by telling stories about my experiences both as a standing and Parasport athlete. My goal was always to put them at ease with me and my wheelchair. I am always open about sharing how at 18 years of age, I crashed while snow skiing but overcame my disability and strived to be a better person and athlete every day."
As an athlete, Scott competed at world-class level in multiple sports. He was a 4x member of the U.S. Men's World Cup Tennis Team, 2x NWBA National Basketball Champion (2001, 2003), Intercollegiate All-American and NCAA Doubles Champion (2011), 3x Team U.S.A. Paralympian (1992, 1996, 2000), and earned a bronze medal in wheelchair tennis at the 2000 Sydney Paralympic Games.
Recognized for his significant accomplishments and leadership in Paralympic sport, Scott was appointed by the U.S. Olympic Committee to the role of Assistant Chef de Mission at the 2004 Paralympic Games in Athens, Greece. He also served as the Director of Athletics at the U.S. Olympic & Paralympic Training Site in Homewood, Alabama, where he was responsible for developing and directing an internationally renowned adaptive sport program.
While we were talking about off the court endeavors, we asked Scott to describe one of his typical hikes for us.
"I air up my tires and try to go as far as I can up/down a trail. Some are just too steep or have a lot of stairs, so I try to find more easy to moderate trails to hike on. I hike on tougher trails like a snow skier would approach a mogul field. I analyze the surface, the terrain, and sort of map my way around or over rocks, tree stumps, or other obstacles. On occasion, I have to get on the ground and throw my chair over obstacles and scoot my bottom over the obstacle. I love when I've spent an hour climbing a tough trail and someone walks by and gives me a look or affirmative nod."
 "I don't have any specialized equipment other than keeping my body fit and strong to be able to push through dirt, sand, gravel, and grass. I do have a set of wheels with knobby tires to help with traction. My hand-cycle has road racing tires and gears on it just like a bicycle."
Giving us a window into Parasport athletes, from the perspective of lived experience, Scott says, "Once an athlete with an impairment gets over all the emotional feelings of having to live with a disability, it is basically 'game on' – with modification of course. People and especially coaches have to come to the realization that Parasport athletes are still athletes. Nothing more and nothing less."
Examining the evolution of his coaching philosophy as it stands today, he says, "I never had a formal mentorship experience as a coach and many of my coaches were ineffective. So I learned a lot of what not to do from my coaches. When I entered academia and began studying coaching, my observations, interviews, and discussions with coaches at the highest levels of sport led me to seek knowledge of how to be a better coach myself. These things also informed my teaching." 
Scott's son, Connor, has been an integral part of his life, athletic, and coaching journey. We wanted to share some of his thoughts on the way they work together and continue to inspire one another (even though the subject is a little off topic).
"I think of my son every time I advise a student. I coached my son growing up in multiple sports but teaching him about how to coach in a formal setting was more challenging. I'm always interested in his development as a [basketball] coach. I was thrilled when he asked me to help out as his assistant coach after he landed his first head high school coaching position. We worked well together and I just let him coach his way. It actually brought us closer together as father and son. We also authored an article together about our unique mentoring experience."
As a coach, 'Coach D' is a United States Professional Tennis Association Teaching Professional, and has coached competitive youth, high school, and adults in baseball, basketball, football, and tennis.
'Dr. D', as his students refer to him, remains active as a volunteer basketball and tennis coach, hiker, hand cyclist, and outdoor enthusiast. He earned a Ph.D. in Human Performance from the University of Alabama and is currently an Associate Professor in the Department of Sport and Exercise Science at the University of Northern Colorado (UNC) in Greeley, Colorado, where he currently coordinates the undergraduate and graduate Sport Coaching programs, including a new Coach Development Ph.D. Dr. Douglas has presented his research and practical expertise at professional conferences worldwide, and published in numerous professional journals in the areas of coaching expertise, coaching education, coach development, and perceptions of disability.   
LOVE THIS ARTICLE?
DOWNLOAD YOUR FREE, PRINTABLE PDF COPY BY FILLING OUT THE FORM BELOW!
Where to from here?
Dr. Douglas uses Athlete Assessments' DISC Profiles and Academic Program as part of the Advanced Principles of Coaching at the University of Northern Colorado. Whether you teach Sport Management, Sport Coaching, Sport and Health Sciences, or Sport Psychology, provide your students with the skills to be the best coach they can be, if we can assist you with any resources or information just reach out and contact us.