If you missed out on our previous webinars or podcast episodes featuring Bo Hanson and special guest panelists, don't worry! We've created a catalogue of them here for you to watch or listen back to the recordings. Simply select which webinar you would like to rewatch via the buttons below. In return, we'll be sure to invite you to join us for our next open webinar. 
Sign up to join us for our next webinar happening in April 2023 via the link below!
(Signing up also provides you access to the recording if you're unable to attend live)
Our next webinar is focusing on the uber popular topic of Mentoring Success. We've pulled together an exceptional panel of experts, covering all aspects of mentoring, from formal to informal, student athletes to coaches, and in the professional sports. Sign up now!
Can't wait for our next one? Catch up on our previous webinars and access the recordings below.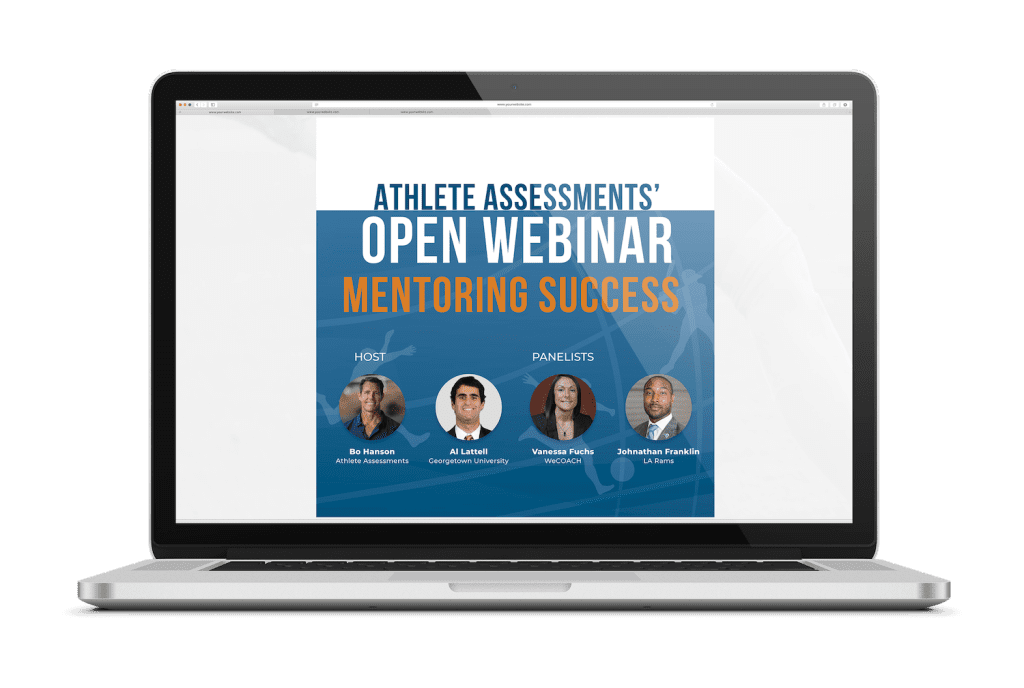 Hosted by our very own Bo Hanson, and featuring an exceptional panel of experts, Vanessa Fuchs, CEO of WeCOACH; Al Lattell, Executive Director of Athlete Leadership at Georgetown University; and Johnathan Franklin, Director of Social Justice & Football Development at Los Angeles Rams.
Each shared leading examples of what effective mentoring looks like within a variety of contexts, and success factors at a program and individual level, while highlighting the areas of development best suited to these environments. Catch up on this long-awaited topic! 
JANUARY 2023 OPEN WEBINAR
Our Top Three Off-field Factors to Get Right this Year
As 2023 started afresh, Founder & Director, Bo Hanson, and CEO, Liz Masen, reflected on, debated, and discussed what they deemed to be most important and impactful for the year ahead.
Whether you're a coach, athlete, academic, consultant, or on the business side of sport, this webinar resonated as they shared a-ha moments which have led them to what they see as the top three off-field performance factors for success. See if you agree or disagree! Either way, this is one you don't want to miss, catch up now!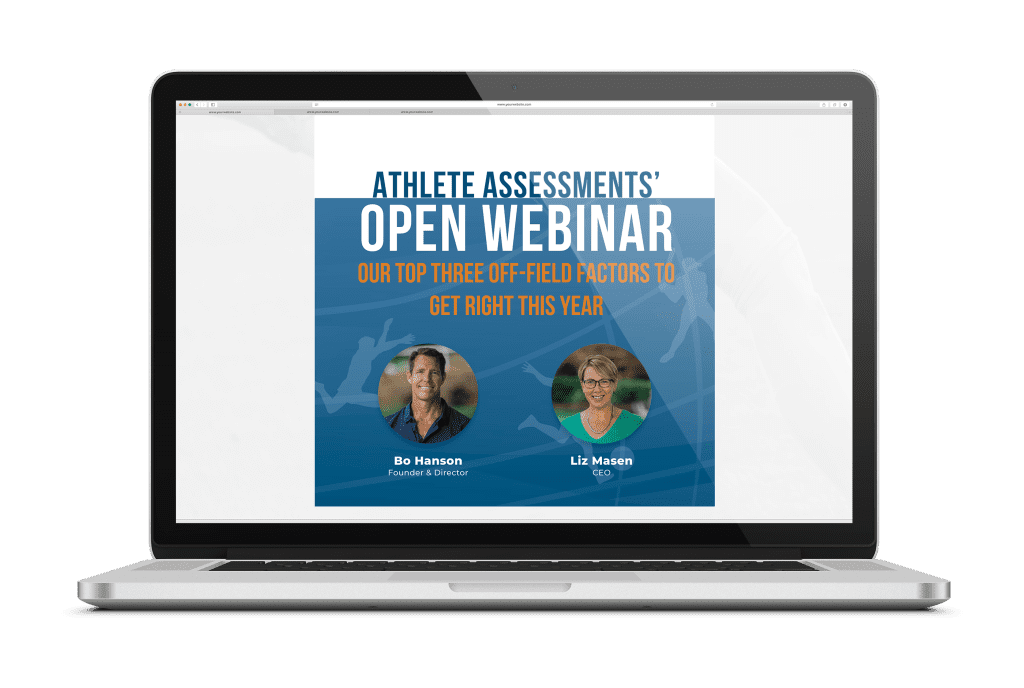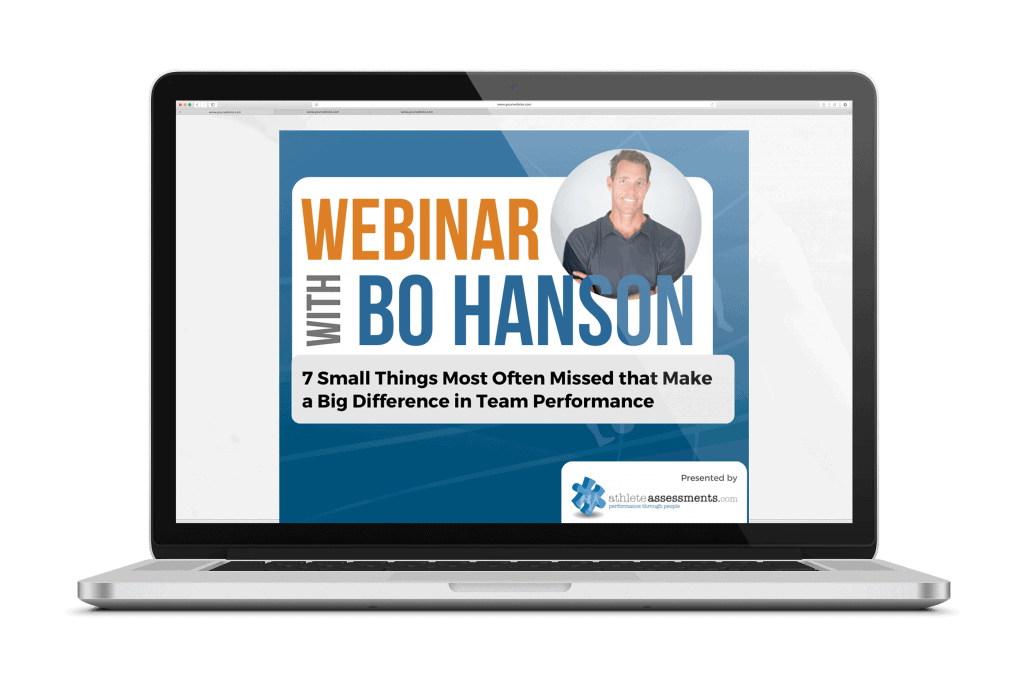 SEPTEMBER 2022 OPEN WEBINAR
7 Small Things Most Often Missed that Make a Big Difference in Team Performance
We often talk about how the small things are the big things when it comes to performance. But what exactly are the small things? In this webinar, Athlete Assessments' Founder and 4x Olympian, Bo Hanson, shared what he has found to be the critical small details, that are most often missed, but are essential for team performance. Built on 25 years of experience, working with thousands of teams and people to take their performance to the next level, Bo offered a unique perspective on what the best teams truly do get right. It may not be what you think. 
Watch back the countdown of the top 7 small things that will make the big difference in your team's performance.
How to get your Athletes to Lead from Within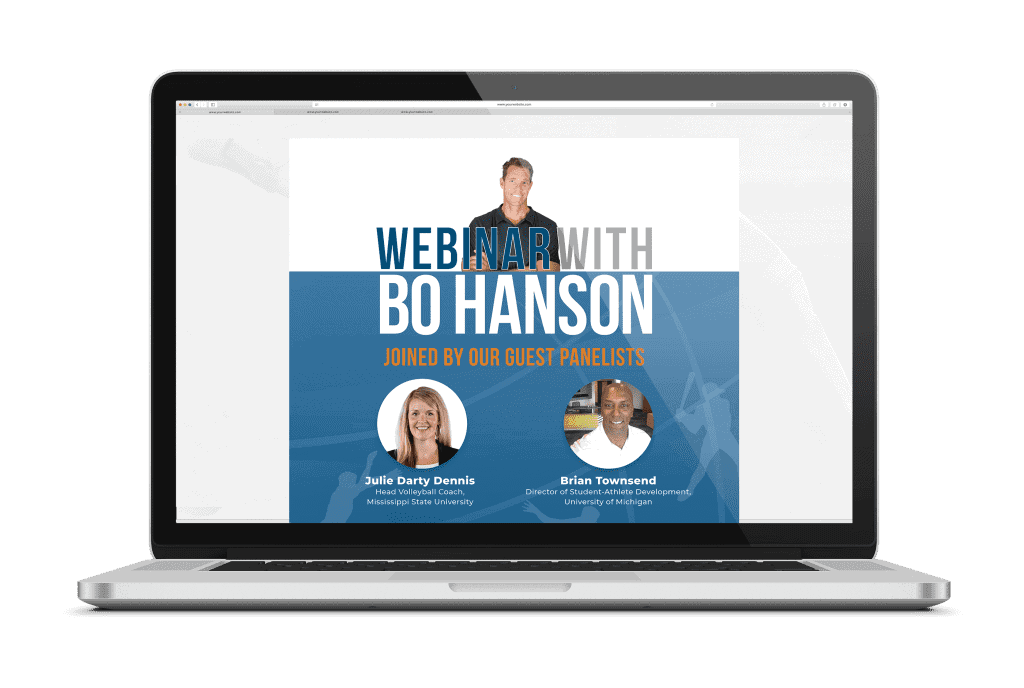 Leadership and accountability have been the most requested topics for our webinars, so this one is dedicated to the 'how-to'. No more talking about the importance of leadership, or wanting accountability in your team, this webinar is all about how you can build it into your program, so that your athletes are leading from within.
Athlete Assessments' Founder and 4x Olympian, Bo Hanson, was joined by a special guest panel including Julie Darty Dennis, Head Volleyball Coach at Mississippi State University; and Brian Townsend, Director of Student-Athlete Development at the University of Michigan; who each have made outstanding progressions in their programs through prioritizing the involvement and development of their athletes. Hear from people who have truly engaged their athletes to lead from within, and genuinely keep each other accountable. This webinar offers exclusive insights into some leading programs with championship winning strategies that you too can implement. Catch up now!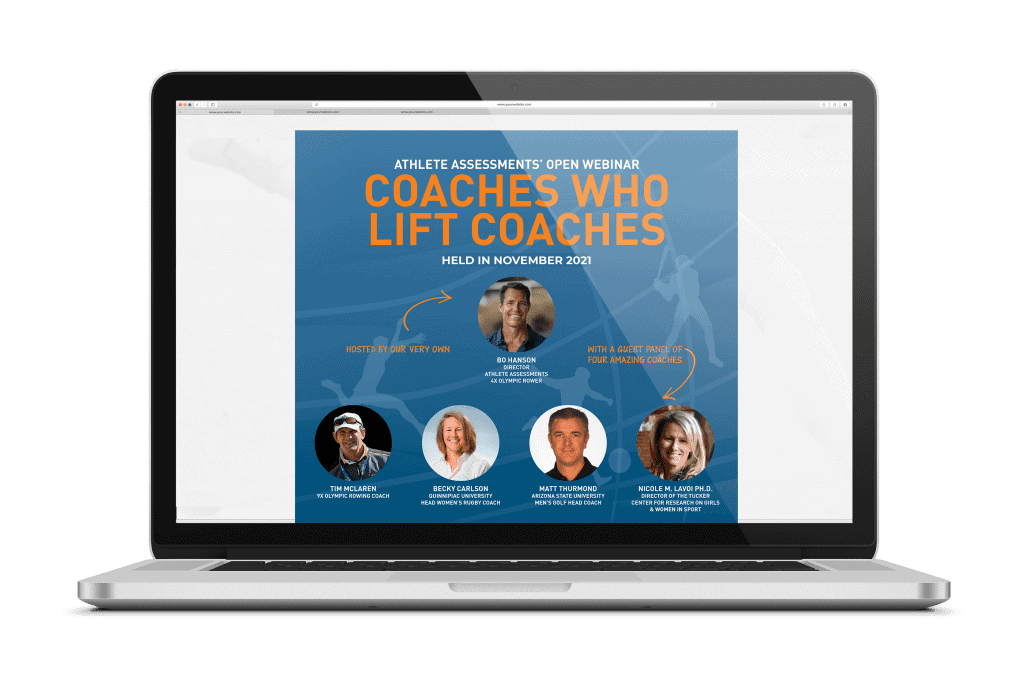 NOVEMBER 2021 OPEN WEBINAR
The profession of coaching goes beyond just how we develop our athletes. The role of a coach extends into building the future of our sport, through developing the next generation of coaches. In this webinar we looked at a very important aspect of a Head Coach's role, helping their Assistant Coaches reach their own coaching goals.
Our host, Bo Hanson, was joined by four very special guests who all are experts in 'lifting coaches', including Becky Carlson, Head Coach of Women's Rugby at Quinnipiac University;  Matt Thurmond, Head Coach of Men 's Golf at Arizona State University; Nicole M. LaVoi, Associate Director at the Tucker Center for Research on Girls & Women in Sport; and Tim McLaren, 7x Olympic Rowing Head Coach. They have consistently and persistently helped their assistant coaches become head coaches for themselves, not just a couple of times, but many, many times. Their stories, perspectives, advice, and guidance are invaluable for Head Coaches, aspiring Assistant Coaches, and anyone working in this space.
OCTOBER 2021 OPEN WEBINAR
Cautionary Tales and Exemplary Team Strategies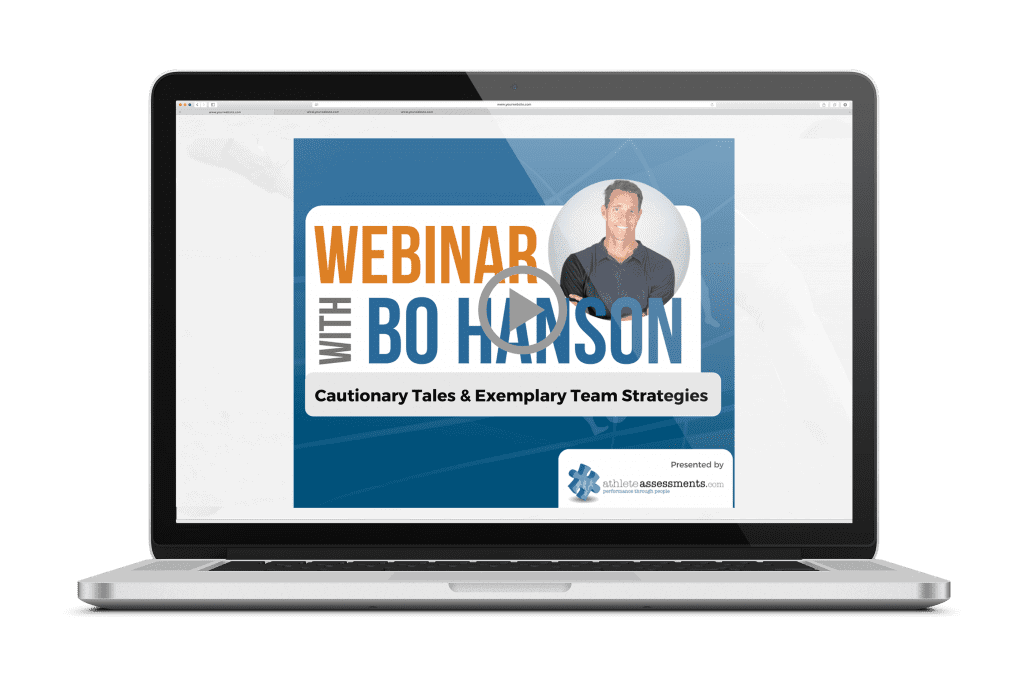 Hosted by Bo Hanson, this webinar served to create awareness of the critical issues which will derail your season if you do not proactively manage them. Bo presented the big coaching and team issues that he most often addresses with clients in their quest for success, along with sharing strategies he helps clients implement to win more consistently.
This is a practical 'how-to' session, inspired by the frequent comment "if you could sit in my chair and see what I see…" Some of the topics covered will be accountability, managing standards, dealing with playing time, recruiting with intention, what winning looks like, and what underpins success. This also includes the importance of team dynamics and the impact this has on the roles your athletes play. Bo shares, "In more than 20 years of working with teams in both sport and business, I have collected my thoughts on what I see as the biggest issues that a coach must manage on a daily basis as they navigate their teams through the course of a season and drive their winning team culture."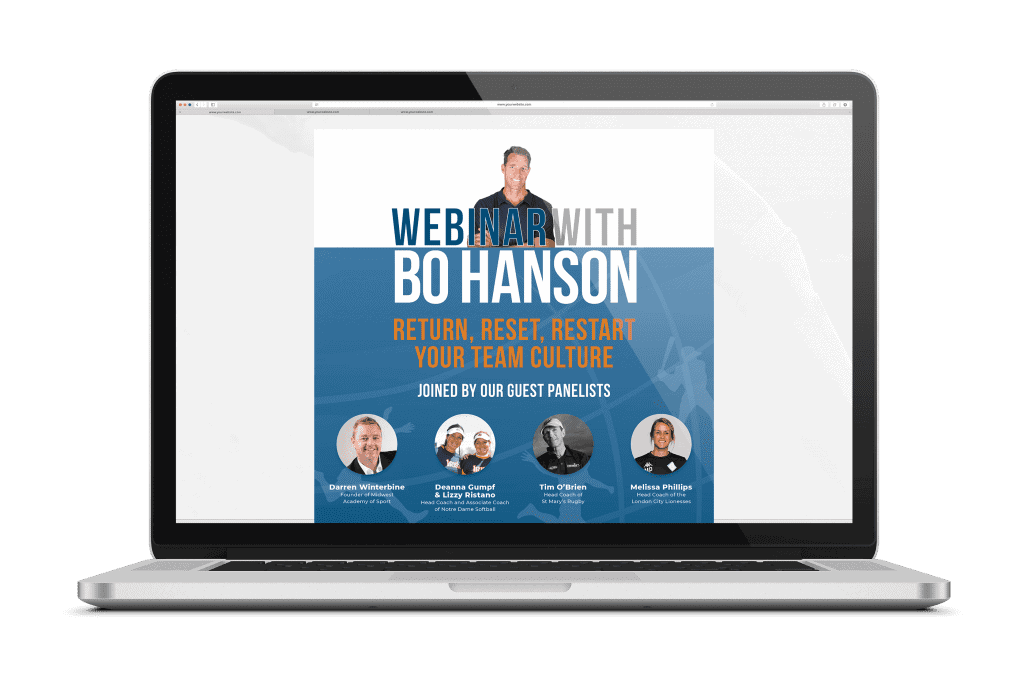 Return, Reset, Restart Your Team Culture
Hosted by our own Bo Hanson (4x Olympian and Athlete Assessments' Director), and featuring a panel of four special guest coaches including Deanna Gumpf & Lizzy Ristano from Notre Dame Softball; Melissa Phillips from the London City Lionesses; Darren Winterbine from Midwest Academy of Sport; and Tim O'Brien from St Mary's Rugby. We respect each of them for their different perspectives and roles in driving their team culture, our July 2021 open webinar focused on returning, resetting, and restarting your team culture. We look at the different experiences our international coaching panel have each been dealt in relation to building and driving team culture, providing examples and strategies you can apply to make your team sustainably successful. This webinar is a must-see webinar provides unique insights into this highly relevant topic for coaches of all sports.
Choosing Captains and Leadership Development within your Team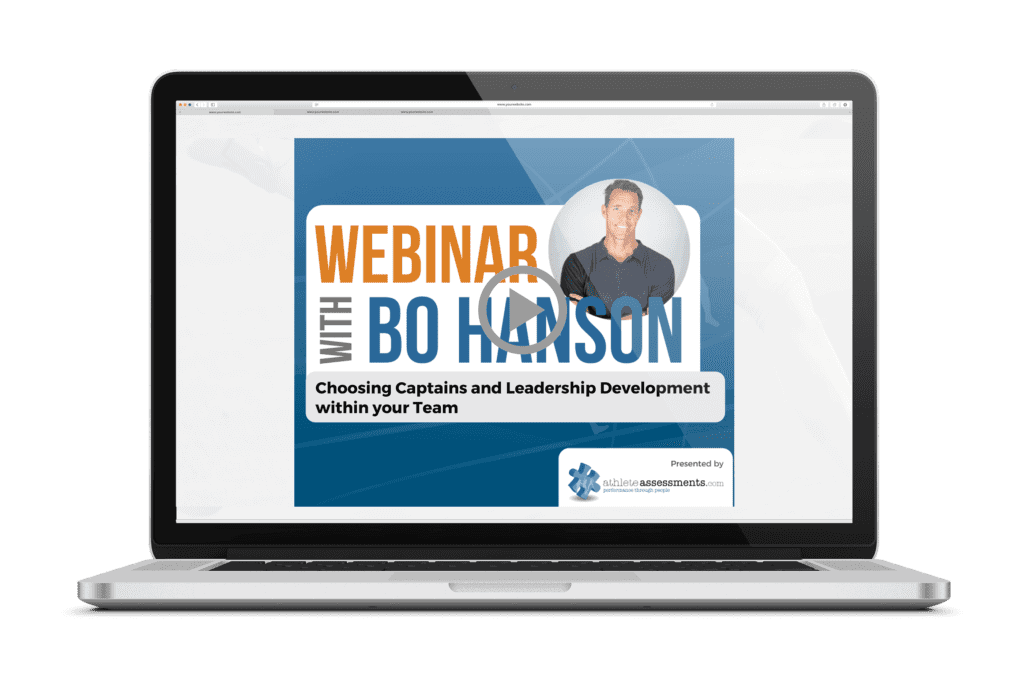 If you waiver on how to select your team captains or leadership group, or are looking for more effective ways to develop leadership within your team, or these topics fascinate you, then this webinar with Bo Hanson is for you! Every coach knows the value of having capable leaders and captains on their team. We all know it helps positively impact team success and the type of culture which can deliver sustainable results over time, and it ensures future leaders are developed through positive role models.
Often, teams have more than the standard captain and vice-captain duo, appointing a senior group of leaders to steer the team from within – we explore the pros and cons of the size and roles. Importantly, we tackle the different ways captains and leaders are selected to avoid a 'popularity contest', and we address the challenges and opportunities of developing leadership skills. This session will also focus on understanding leadership styles, and exploring real life strategies to enrich your team's success on and off 'the field'.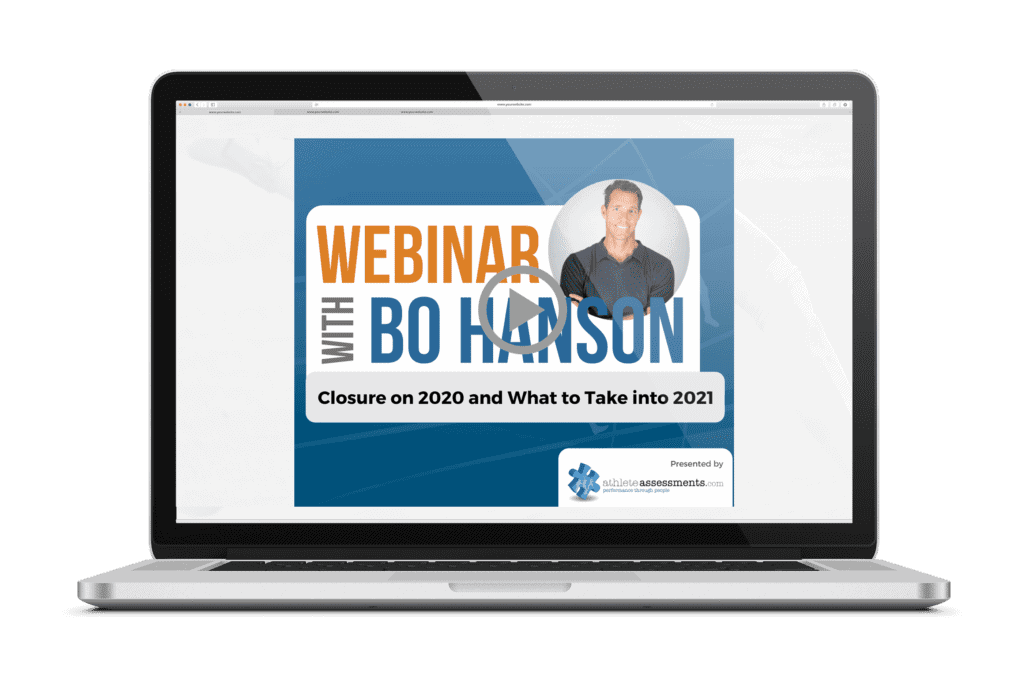 DECEMBER 2020 OPEN WEBINAR
Closure on 2020 & What to Take Into 2021
In the pre-holiday season of December, our first open-invitation webinar was focused on bringing closure to all that was 2020 and preparing for the new year ahead. While the first day in January may not have been a magical day that erased the year before, it was a milestone and first step into 2021. Watch back the webinar with Bo Hanson as he shared some useful insights and effective strategies to make the remaining year ahead, your best yet. Bo outlined his observations on the year behind us and what he sees as the priorities moving forward.
Catch up on podcast episodes featuring our team as guests.
No Show Dogs Podcast with Bo Hanson
In a recent episode of No Show Dogs, Bo sits down with Derin McMains and Dr. Nicole Detling to discuss the importance of accountability, adaptability, and communication for success in any performance. Drawing on his personal experiences as a professional athlete, Bo highlights how his vision to enable athletes, coaches, and sporting organizations to achieve peak performance through the world's first sport-specific DISC Behavioral Profiling tool came to be.
ABC Radio Melbourne with Lisa Leong & Bo Hanson
Athlete Assessments' Founder and Performance Consultant, Bo Hanson joins presenter, Lisa Leong, live on ABC Radio Melbourne to discuss the topic of succession planning. They cover what it is, why it's important, the common mistakes made when implementing a strategy, and how effective succession planning is the ultimate measurement of a great leader.
Coaches Corner Podcast with Liz Masen
In a recent episode of Canterbury Rugby's Podcast, Coaches Corner, Athlete Assessments' Liz Masen joins Riki Tahere to unpack the power of DISC Profiling and how better understanding your own behavioral tendencies and your players can unlock their best performances. We guarantee you'll love and value the insights shared in this episode, by don't just take our word for it! Have a listen and share your thoughts with us.
Hardwood Hustle Podcast with Bo Hanson
We're excited to share Bo's chat with hosts of the Hardwood Hustle Podcast, TJ and Sam. In the episode, Bo talks coaching, the importance of knowing behavioral preferences, and picking captains or developing leaders. If you enjoyed our webinar on Choosing Captains and Leadership Development within your Team, you'll LOVE this episode!
The Fitness Business Podcast with Bo Hanson
Bo chatted with Dori Nugent, host of the popular podcast, covering all things DISC Profiling and the benefit of using it to hire the right person for the job. The context of the episode is a little different to what we usually focus on, primarily focusing on the fitness and personal training industry, but is still just as applicable to the wider sporting industry.

Whether you already use DISC Profiling, or you are considering whether or not this tool may be beneficial for you, we highly recommend giving this episode a listen.
Way of Champions Podcast with Bo Hanson
Listen back to Bo's chat with John O'Sullivan, Host of the Way of Champions Podcast where they discussed a variety of interesting topics, from utilizing failures in childhood and adolescence as fuel for success in adulthood, to setting goals and defining values with your teammates, why lacking clarity in your role leads to a bad team culture, plus loads more!
You may also be interested in...
Learn more about Athlete Assessments