putting the 'fun' into better
fun
ctioning teams!
On countless occasions, we've been asked how all levels of sport can benefit from the great work we do at an elite level. We've answered this by providing a fun and effective solution!
Capturing the benefits of our DISC Profiling application, we created the innovative DISC Card Game ideal for anyone in sport at any level.
People of all ages can enjoy the value that this interactive and fun game brings. The applications are endless from ice-breaker games to team building activities suitable for small and large groups. Players can follow the basic instructions or utilize advanced options all within the detailed instructions provided.
The DISC Card Game is extremely versatile and will be your go-to development tool!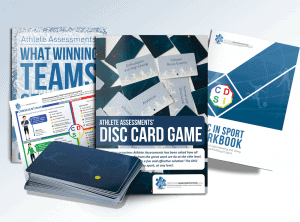 One set of Athlete Assessments' durable DISC playing cards, suitable for up to eight people (more can be ordered for more players)
Full instructions with advanced application options (over 20 pages)
DISC in Sport Workbook (further your understanding and application of DISC)
DISC Coaching Cards including for each player for easy reference
What Winning Teams Get Right Playbook
This game is suitable for a wide range of people from ten years upwards including teenage athletes, coaches of all ages, master's teams, elite athletes, and sports professionals.
The determining factor on whether the game is suitable is the player's ability to read and understand the cards. If they can, they can play!
While this game was developed with sport in mind, it can be just as useful with other groups such as in business, social, family, education, or therapy.
The most important outcome of this game is to develop self-awareness and learn how to value others.
This fun and simple game presents a unique, quick and interactive way to introduce the different behaviors of people. It demonstrates how we all have our own ways of behaving, each bringing unique strengths and limitations. There is no 'perfect' style, and there is no judgment of the value of each person's contribution.
The DISC Card Game can also be used as a visual and physical tool when developing team roles, identifying how each person contributes to the team, and the part they play in defining a team's culture.
The DISC Card Game has everything you need!
The foundation of this game is the DISC behavioral model. Each Athlete Assessments' DISC Card Game contains 36 unique cards. Multiple packs can be purchased to play this game with larger groups.
Each of the cards has a descriptive word or words on one side with a colored ball representing the DISC style color.
Also included is a set of instructions, DISC workbook, and coaching cards that act as an easy reference for the background of DISC theory and application.
Athlete Assessments' DISC Card Game can be used as a fun and flexible 'ice breaker' game to allow the group to get to know each other and become comfortable with each other immediately.
It can be used as a team training session to develop self-awareness and valuing of others.
The DISC Card Game can be played at any stage of the season, but ideally during pre-season preparation (so you can benefit from the value of this game throughout the season).
You can play by yourself or use the game to complement other team development sessions you are running. The options are endless!
Benefits of the DISC Card Game
Develop self-awareness of team members in a relaxed and casual manner
Provide valuable insight into how to respect and value those with different beliefs
Identify how players respond to others in interactive games which can form part of the overall training or coaching strategy
Fun and relaxed team building activity to integrate within a more comprehensive team building program
Form a foundation for future DISC Profiling
Use alongside the Athlete Assessments' DISC Profile Reports to extend on its application
Choose the size to match your needs...
Special End of Financial Year Upgrade Offer
Purchase any size pack and we'll upgrade you to the next size up for free!
Offer is applicable to any of the below sizes purchased on or before June 30, 2022. Simply select the pack you wish to purchase and check out as normal, and when we pack your order we'll ensure you receive the next size up. (E.g. Purchase the 8-player pack, and we'll send you the 16-player).
*Pricing in US$. Postage anywhere in the world is included.
If you have any questions or require larger quantities of our DISC Cards please Contact Us.
Choose the size to match your needs...
*Pricing in US$. Postage anywhere in the world is included.
If you have any questions of require larger quantities of our DISC Cards please Contact Us.
You may also be interested in...
Learn more about Athlete Assessments
Learn more about
Athlete Assessments