Over years and careers, the efforts of an individual can reverberate, repeating many times, they can gain momentum and magnitude. So, when we consider one person's commitment to mentoring the people around them, then we can see the potential for that ripple to become a wave of positive influence.
Talking to Christopher Atwater, Ph.D., Assistant Professor at a university renowned for creating opportunities for its students, I was reminded of the simplicity of the effect and magnetism of positivity when he shared this recollection of the way he himself was mentored shaping his career.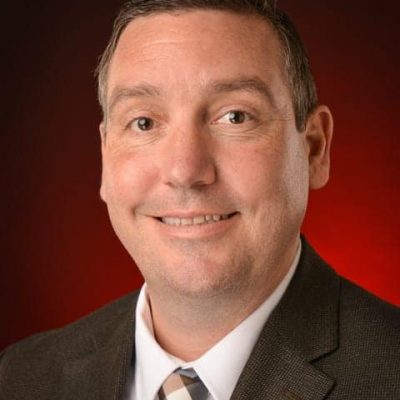 "My biggest mentor is Dick Sander. When I was 30 years old, I was working in mortgage banking. I did not enjoy the work but I was good at it and I made good money so it was hard to walk away. One night at dinner, I told my wife I was going to quit my job and go back to school because I wanted to work in sports. Once I got to school, Dr. Sander took me under his wing and involved me in a ton of projects I had no business being part of due to my inexperience, but he believed in me and coached me, and kept challenging me to get to the next level. When I finished my master's degree, he took me aside and said that if I was willing to teach classes in the graduate program, he would make sure I would be able to progress and get my Ph.D. with all tuition and fees waived. He changed my life. He didn't have to do any of what he did, but he really helped me evolve as a human being and launched my career as a professor. Great man, great leader."
Like me, you will see the impact Dr. Sander not only had on Christopher Atwater, but the lasting effect can be seen in each of the students that pass though the classes he leads at Troy University. Christopher says,
"I have never viewed myself as a teacher. I view my role as a coach and mentor. I love seeing my students succeed at everything they do."
So, how does this translate into a class that students are determined not to miss? Christopher teaches Leadership Principles in Hospitality, Sport, and Tourism Management – a course designed to assist students in developing a personal philosophy on leadership. In developing their approach to leadership, students engage in self-reflection, examination, evaluation, and they explore the way their personal effect can affect leadership.
A fundamental component of Christopher's course leans on Athlete Assessments' DISC Profiles. Early in the unit, students undertake a 12-minute online survey to generate their own individual and unique Sport ManagerDISC Profile. Each Profile Report provides students with a fundamental awareness of their own natural behavioral style, an insight into their strengths and limitations, and knowledge of their areas for improvement. Profiles also detail the pace each individual prefers to tackle tasks, the way they build relationships, communicate, deal with challenges, and information about environments they naturally thrive in. Importantly, each report delivers an insight into what the individual is likely to do under stress, giving them time to develop strategies which counter these tendencies.
Christopher says, "I cannot tell you how many times a student has told me something along the lines of, 'I was very impressed with DISC and what I learned from the experience. At first, I thought it was just going to be a waste of time and money, but I really learned a lot about myself, and how to work with others.' Once they have their profile and have read their reports, they get to see it all play out through different class exercises."
"Many have said that they feel much more prepared to work in group and team situations because of what they have learned about their own behavioral preferences as well as those of others."

"I traditionally have a large number of athletes in my leadership classes. These are elite athletes participating at the highest level of collegiate athletics in America, and if I can help them look at themselves and those around them in a different way that leads to positive results, that is very fulfilling."
Marrying a master's degree in Recreation, Parks, and Sport Leadership with a Ph.D. in Education and a lifelong love of hiking, Christopher reflects on the way some of his best life plans have been hashed out while hiking. He says, "I cannot stress the importance of self-reflection in nature enough."
In every context, learning and skill acquisition relies on participation, interest, and spontaneous involvement. Christopher's curriculum provides space for discussion and sharing as students buy into the concepts with situations from their lives. From his perspective, Christopher says, "I believe that interaction is the key to engagement. In my experience, nobody enjoys being talked to, but almost everybody enjoys being talked with. Two-way communication is of paramount importance, otherwise, students could just read textbooks or review presentation materials in an asynchronous manner. Including people and their varied perspectives and experiences in a dialogue allows people to connect on a deeper and more meaningful level. It transitions the role of lecturer into a role of moderator and mentor."
"I don't ask a lot of the students other than to be genuine and understand that they are perfect as they are."
On that note, this is the advice he would give someone starting out in their academic or teaching career, "Be yourself. At staff meetings, relax, ask a lot of questions, don't be intimidated and isolate yourself. You earned this role. Enjoy the privilege of the pressure and start passing all of the knowledge you have acquired on to the next generation."
Christopher concludes that, "Even greater than the technical skills, is learning the art of listening and being open to other people's opinions and viewpoints. Nobody has ever learned anything by talking. I think the skill of listening and being open is the greatest skill anybody can acquire."
We imagine that in the future we will be hearing stories being told by Christopher's students about the professor who had a profound effect on them as students and people… and the ripple to wave effect continues.
During our interview, Christopher shared so much insightful information we've included a transcript of his Q&A for those interested to read more of his personal insights.
Dr. Christopher Atwater earned his master's degree in Recreation, Parks, and Sport Leadership from Virginia Commonwealth University in 2006 and his Ph.D. in Education, Urban Services Leadership from VCU in 2010. Dr. Atwater has taught a variety of courses at both the undergraduate and graduate levels including Global Perspectives in Sport, Research Methods, and Sport Analytics, developing the Global Sport Management master's degree program from conception to accreditation at Pfeiffer University. Dr. Atwater joined the faculty of Hospitality, Sport, and Tourism Management at Troy University in the fall of 2019. His research interests are Sport Analytics and Global Sport.
LOVE THIS ARTICLE?
DOWNLOAD YOUR FREE, PRINTABLE PDF COPY BY FILLING OUT THE FORM BELOW!
Where to from here?
Dr. Christopher Atwater uses Athlete Assessments' DISC Profiles and Academic Program as part of the Leadership Program at Troy University. Whether you teach Sport Management, Sport Coaching, Sport and Health Sciences or Sport Psychology, provide your students with the skills to distinguish themselves in a competitive sports industry. We would love to help you and your students perform with effortless ease and excellence, if we can assist you with any resources or information just reach out and contact us.