The NCAA Women Coaches Academies (WCA) have been running for close to two decades and have thousands of inspired alumni who sing the praises of the experience of bringing coaches together to connect, learn and network. The success is often attributed to the experience of being there in person, until now. Like so many events of 2020, the WCA moved their program online in December, and yet they still achieved all that had previously been accomplished in person, plus more.
CEO of WeCOACH, Megan Kahn says, 
"Given the current climate, we made the decision to transition the NCAA Women Coaches Academy to a virtual session. Our emphasis was on continuing to provide a first-in-class experience coupled with relevant content, as well as ensuring that the participants had ample opportunities for connection and engagement. We were very intentional about delivering a transformative experience to the 76 coaches just as if we had been able to meet in-person."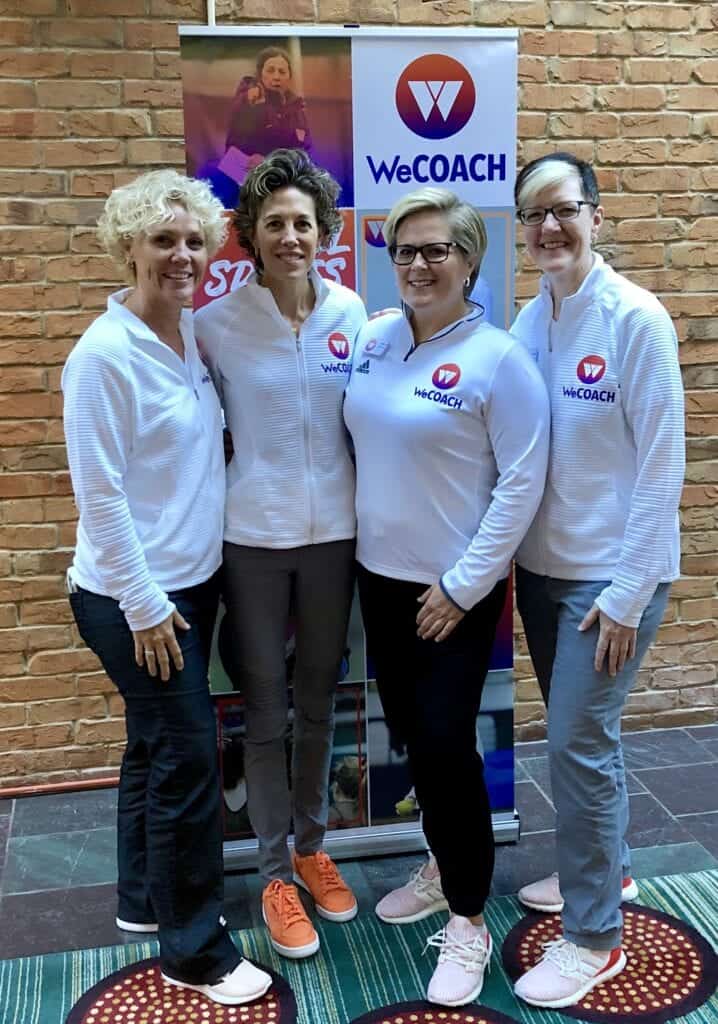 CEO and Client Director of Athlete Assessments, Liz Masen who has maintained an uninterrupted attendance at the Academies for the last decade, says of the December Academy, 
"WeCOACH did an incredible job in moving such an intensive and engaging program online. The most talked about aspects of the in-person Academies in previous years are the value and strength of the networking, impact of the content, the relationships that are built, and the overall experience of an impressive group of women coaches. It would be understandable to be concerned that an online experience would not hit the target, but they did, and did it exceptionally well!"
Additionally, she says, "I had the opportunity to work with the Japanese Women Coaches Academy which had also moved online in September 2020. What I was most impressed by is that the coaches emotional response at their graduation was matched with previous years' in-person graduations. The coaches were inspired, grateful, optimistic, had incredible belief, new skills, personal connections and experiences to take with them. I knew that WeCOACH would be able to do this to the same intensity and engagement. Selfishly, I got all the wonderful experiences myself, without the days in a plane!"
"With each session, the coaches were online, participating, sharing, and fully immersed in the topics. Even the daily happy hours were highly attended and gave the coaches the opportunity to connect in a more informal way, sharing experiences and fun discussion. And I showed my commitment by engaging in an adult beverage too… just don't do the time difference calculation (or check my coffee mug for evidence), it won't look favorable on me!"
"The online community and platform has proven to be a great success for WeCOACH and their programs. Already I can't wait to be involved again in May 2021," Liz says.
The NCAA Women Coaches Academy (WCA), hosted in partnership between WeCOACH and the NCAA, is a four-day educational training available to NCAA coaches of all experience levels. The WCA is designed for women coaches who are ready and willing to increase their individual effectiveness by learning advanced skills and strategies that directly affect their personal and team success. 
Participants focus on non-sport specific concepts in an environment that fosters inclusion across the sports community. The Academy is for women coaches at NCAA Division I, II, or III member institutions. Since the first WCA session in 2003, 49 Academies have taken place, producing more than 1,800 graduates. And, registrations are now open for the NCAA Women Coaches Academy May 24-27, 2021.
Plus, if you are a WCA graduate then NCAA Academy 2.0 is for you! The Women Coaches Academies NCAA Academy 2.0 helps take your coaching game to the next level. This master learning opportunity, in a small class setting, progresses on the skills, strategies, and knowledge gained from WCA sessions. Registrations are now being accepted for the next NCAA Academy 2.0 May 17-19, 2021.
Both events, the NCAA WCA and NCAA Academy 2.0 will be online to accommodate members facing budgetary, travel and accommodation constraints.
An integral aspect of the NCAA Women Coaches Academies' work is providing members with the latest information about issues affecting the industry, and resources which bring them to the forefront of their field. An easy way to invest in yourself is by making time to listen in to The WeCOACH Podcast, hosted by CEO Megan Kahn, where she goes one-on-one with some of the greatest women coaches, administrators and industry leaders in the world of sports for insightful and inspiring conversations. Books are always on everyone's to-do list, so WeCOACH have made it easy with the Book Club. New book club sessions are announced quarterly. Take a look to find out more.
Additionally, WeAMPILFY is another key initiative WeCOACH have started, here is the quick low-down; WeAMPLIFY is a connection, an action, and a promise to amplify the voices, visibility, experiences, and value of women coaches of color. You can get involved by participating in the next session: 'Amplified Voices Panel' on February 15 2021. Find out more here.
WeCOACH do such a phenomenal job of building upon their past initiatives to advance, educate, and support females in the coaching profession. And, we know that you support women in coaching positions just as much as we do, so we have included this link to purchase WeCOACH merchandise.
Lastly, if you are a woman coach at a non-NCAA institution and would like to attend the NCAA Women Coaches Academy, please contact Jan Whitbeck, Sr. Director of Events & Branding at jan@wecoachsports.org for information.
At Athlete Assessments, we're here to provide you with excellence in service and here to help you be your best. If there is anything we can assist you with, please contact us.
LOVE THIS ARTICLE?
DOWNLOAD YOUR FREE, PRINTABLE PDF COPY BY FILLING OUT THE FORM BELOW!