An Amazing Way to Deal with Change in Your Work and in Your Life
Click here to buy The Sports Playbook by Joshua A. Gordon, Gary T. Furlong and Ken Pendleton now.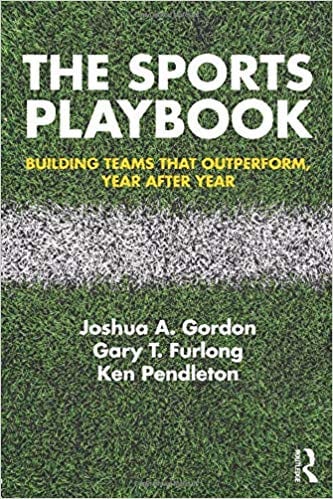 Why we recommend it: 'The Sports Playbook unravels the mystery of repeated success and reveals a blueprint for creating winning teams. It's a 'how to' manual for establishing a winning culture and this is the crux of why we love it!
At Athlete Assessments we're always focused on implementation. Knowledge is great, but how do you use it? Well, The Sports Playbook, is a blueprint, you can sit it on your desk, you can refer back to it constantly and it's packed full of real-life examples, tools and strategies which every coach and sport professional can use.
The authors package their findings into a four-step, easy to follow outline, which encompasses creating and maintaining a culture of success, what to do when there's a crisis and preparing for future success. It doesn't matter where you are in your career, these are the fundamentals that every sport professional needs to know.
You can also read about one of the authors, Joshua Gordon, in our recent article, 'Conflict Management, Team Culture and High-Performance Sport'.
Book Overview: Fundamentally, The Sports Playbook, sets out to answer the crucial question – Why do so few teams enjoy sustained, continued success? To arrive at an answer, the authors examine why some sporting teams have losing records and others win big, but only every 20 or 30 years.
The evidence points to an answer, and building on those facts, this book provides a blueprint or "playbook" for success in sport at every level. Step-by-step, chapter-by-chapter The Sports Playbook provides a plan for building a team culture that will lead to winning consistently.
Information is distilled into seven essential chapters:
Pre-Game: The cost of failure in sport
The Sports Performance Playbook
Playbook Step One: Establishing a Winning Culture
Playbook Step Two: Creating alignment between individual and team
Playbook Step Three: Restoring alignment through effective issue resolution
Playbook Step Four: Sustaining success – improving into the future
Postgame: The Sports Playbook in summary
With each step, this book delivers real-world tools and techniques that can be easily implemented by every sports organizations and coach. Information includes team charters, individual athlete plans, player accountability systems, and team communication strategies. The Sports Playbook provides practical guidance in areas that directly impact performance like; aligning individuals with a clear team plan, resolving conflicts proactively, and learning from every game and every season to develop a smarter and more consistent culture of success.
The Sports Playbook: Building Teams that Outperform, Year after Year will help every team fulfil its true potential through leadership, focus, and performance.
Click here to buy The Sports Playbook by Joshua A. Gordon, Gary T. Furlong and Ken Pendleton now.