Success factors, critical inclusions, and applied strategies will be interwoven in a 'how-to' presentation on coach education by an international panel of sports' top women leaders from The Tucker Center, Japan's Juntendo University, and Athlete Assessments at the 8th IWG World Conference on Women & Sport in Auckland, New Zealand, from November 14th to 17th, 2022. (Originally scheduled for May 5th to 8th, 2022).
What has become a powerful vehicle to effect and accelerate the rate of change, the IWG Conference, held every four years, is expected to be attended by a global audience, in-person and virtually, and is the largest gathering in the world to advance gender equity and equality in sport and physical activity.
 The conference's framework and 2022 theme, 'Change Inspires Change', provides an exciting opportunity to share the learnings and findings from years of collaboration through the common ground shared by three organizations for women's coach development. The accomplished panel of five women accepted to speak at the conference bring together decades of experience spanning the globe, and are hoping to be together in-person for the first time in over two years. Featuring one panelist from the USA, Dr. Nicole M. LaVoi, Director of the Tucker Center for Research on Girls & Women in Sport, an interdisciplinary research center devoted solely to sponsoring, promoting, and disseminating scholarly activity on how sport impacts the lives of girls and women. Alongside Nicole is Japan's Dr. Etsuko Ogasawara, Executive Director of the Japanese Center for Research on Women in Sport and Professor of Sport Management at Juntendo University, and Dr. Natsue Koikawa, Professor and Coach at Juntendo University, both of whom are leading the charge in the support and action of women's coach development within Japan. The panel is completed by our very own Australian based, Liz Masen, CEO and Client Director of Athlete Assessments, who has been involved in women's leadership development for over 20 years and with the USA and Japan Academies for over a decade.
Through the collaboration of these four women over many years, they bring to the IWG Conference a presentation titled 'The Value of and 'How-To' of Women Only Coach Education: Learnings from the USA & Japan', an interactive Q&A specifically tailored to the audience, sharing experiences, relevant data, and practical advice. With the IWG's audience comprising of thousands of experts from across global sport, recreation, government, business, media, and academia, their calibre will be well-equipped to receive, question, and act on information discussed by the panel.
Signifying her passion, Dr. Nicole M. LaVoi nodded to the importance of presenting at this conference stating,
"The Tucker Center is proud to partner with like-minded entities around the globe who care deeply about developing and supporting women in sport coaching. We know from the data, women-only educational opportunities are transformative, and I look forward to sharing our findings."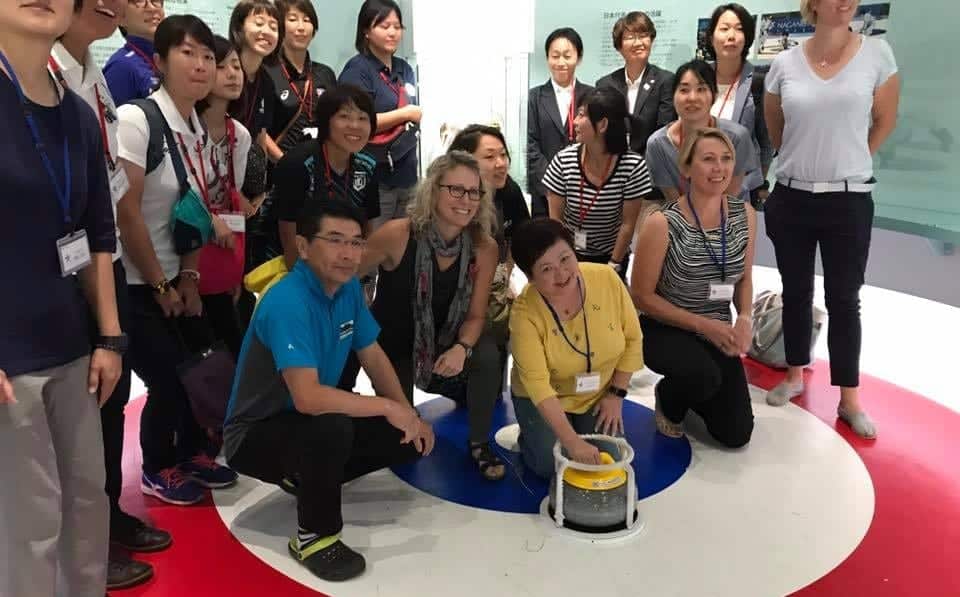 Collaboration and international contribution are an essential part of the women's coaching community worldwide. Dr. Etsuko Ogasawara and Dr. Natsue Koikawa will share on the panel their story of the way they were supported to create a local Academy to advance and educate women coaches in Japan.
In 2014, three passionate Japanese coaches and educators, including Dr. Ogasawara, attended the principal WeCOACH/NCAA Women Coaches Academy (WCA) with the intent to launch the Japanese Women Coaches Academy. Now in its seventh year, and on the heels of the Tokyo Olympics, the Japanese Women Coaches Academy, modeled after their American counterpart, continues to make significant advances for women coaches in their country. Both Nicole LaVoi and Liz Masen are habitual faculty members at the WeCOACH/NCAA and the Japanese Academies.
Dr. Ogasawara and Dr. Koikawa offered insight into how attending the WeCOACH Academy and experiencing the event and content shared inspired their launch of the Japanese arm saying,
"We had never before seen such an atmosphere. We decided to start the Japanese Women Coach Academy immediately. We believed that we could change our way of thinking to support women coaches or leaders in Japan and would like to share the results of our WCA to the other countries at the conference."
The NCAA Women Coaches Academy (WCA) in the USA has been changing lives and the way people think since its launch in 2003, celebrating its 51st Academy in 2022. The four-day educational training event aims to increase the personal effectiveness and team success of the women coaches who attend. Coaches focus on non-sport specific concepts, advanced skills and coaching strategies, in an environment that fosters inclusion across the sports community. The curriculum is informed and modified by participant feedback and the changing needs of coaches. Ongoing research indicates the Women Coaches Academies influence retention with an impressive 88% of women still coaching five years after attending an academy.
Worldwide, women coaches face barriers to entering, surviving, and thriving in the sporting landscape. The development of women in leadership roles such as coaching is critical for achieving a gender-balanced workforce, and providing same-identity role models for females. The IWG Conference provides an exciting opportunity for members of the panels to reach out to women and girls globally and share their experience of processes and organizations that's proven to successfully advance the status and number of women in the coaching field.
The IWG Conference provides an exciting opportunity for members of the panel to reach out to women and girls globally and share their experience of a process and an organization that's proven to successfully advance the status and number of women in the coaching field. The fundamental structure of the WeCOACH/NCAA Women Coaches Academy is replicable – its curriculum, format, and the opportunities it presents participants for networking, mentoring, and connecting with like-minded women working towards similar goals in similar environments.
The conference's 'Change Inspires Change' theme is all about empowering the individual to make positive change for women and girls in sport and physical activity worldwide. The concept follows a simple premise, "Every change you make, no matter how small or large, inspires the next, and the next. By sharing your story, you can help inspire others to make change."
The International Working Group (IWG) was established in 1994 with the Brighton Declaration which is aligned to the 17 principles of the United Nation's Sustainable Development Goals and in particular STD G5 to achieve gender equality for women and girls in all aspects of life. On a global level within the sporting landscape equality means that woman can participate fully without fear, in competition, administration, and establish careers and communities in sport that are not bound by borders.
Liz Masen concludes with some inspiring words to take into the conference,
"Great things happen when passionate and dedicated women come together. This conference is an excellent platform to develop more opportunities and make further progress for women and girls in sport globally. I'm personally excited to share the impactful work that we have been doing collaboratively from the USA, Japan, and Australia over the last decade, and learning from those I meet and see present at the event."
LOVE THIS ARTICLE?
DOWNLOAD YOUR FREE, PRINTABLE PDF COPY BY FILLING OUT THE FORM BELOW!
Where to from here?
At Athlete Assessments we're extremely passionate about the support, development, and promotion of women coaches all across the globe. If you would like to read more, we have an entire magazine dedicated to women in sport, showcasing some of the phenomenal women promoting and driving change within the sporting industry, at all levels. You can download your copy of the magazine here.
If you'd like to discuss any of our programs and services and how they can aid in coach, athlete, or all of organization development, we invite you to contact us.