Congratulations to Quinnipiac University's Women's Rugby team who have finished an exceptional 2015 season by winning the inaugural varsity National Championship. In this article, Head Coach Becky Carlson shares her secrets to success.
Since moving to Quinnipiac University from her position with USA Rugby as an Emerging Sports Program Manager in 2011, Head Coach Becky Carlson has led her team to uncharted success, and has dramatically changed the landscape of Women's Rugby in the United States. Before becoming the 2015 Champions, the Bobcats had competed in three of the previous four National Championship games, demonstrating that Coach Carlson has already forged a legacy of excellence at Quinnipiac.
Becky Carlson's five seasons at Quinnipiac
Head Coach of Quinnipiac's Women's Rugby Team.
Led the Bobcats to the 2015 National Championship
2014 Women's College Coach of the Year by Goff Rugby Report
In 2014 led the Bobcats to ACRA National Semifinal and 3rd place nation-wide.
Has reached Nationals in four out of five seasons at Quinnipiac
Developed Quinnipiac's Women's Rugby NCAA DI program from scratch in 2011
What really stands out with Coach Carlson is her ability to initiate positive change in her student-athletes as people and players.
"We started with a group of walk-ons who had no experience in the game prior and went from 3-6-1 in the first season to 15-1 in the second. The pace of our progression is a testament to our program's commitment to excellence."
One of the biggest secrets to Coach Carlson's success is her exceptional understanding of her student-athletes and ability to adapt her coaching style to any given situation.
Adaptability and Coaching Styles
Adaptability is truly one of Coach Carlson's most impressive attributes. On the sporting field she was a multi-sport student-athlete. As a coach she continues to show her adaptability through her dedication to learning new methods of communication and approaches to coaching.
"I think the evolution of society has demonstrated that our clientele, that is the athletes, is changing. What is important to them is not necessarily important to me."

"I realized that crafting my coaching to the letter precisely how I had been coached, was limiting and didn't match up at all with what my true behaviorial style required…I needed the freedom to create and try new methods that were free of routine."
She acknowledges that the traditional approach to coaching exemplified by coaches of the previous generation does not work with today's style of athlete.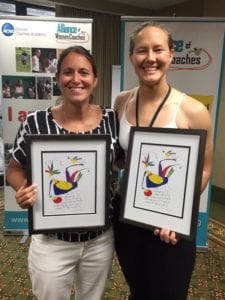 "I was coached all my life by male coaches who were direct, demanded perfection and did not view coach-athlete relationship building as a priority."

"Once I realized that I could indeed still be a good coach without being a carbon copy of my own coaches, things started to change in my results in both the athlete-coach relationship department as well as my communication skills. I found myself making active choices to adjust based on each individual athlete and what they needed, rather than the results I needed.

I found that while I was still taking bits and pieces of my experiences and talent with me into the trial and error process and discovery stages, that I was subconsciously creating my coaching platform, core values and best practices."
Developing Team Culture
For Coach Carlson, team culture is an essential part of her success formula.
"Build the culture first and the winning comes second."
Coach Carlson has an enviable position in recruiting, with Quinnipiac being one of the few NCAA DI rugby programs that grants scholarships. However, Becky knows the importance of picking the athlete that will work best with Quinnipiac's culture.
"It's not necessarily the best player who makes the best teammate."

"The talent level is important but also how that player fits into the team dynamic. If you recruit all MVP's then you have a team full of #1's. When you ask #1's to be #2's and #3's suddenly, it can be a real challenge and many time a disruption to the culture."
For this reason, Becky devotes significant time to developing a culture that is both inspiring and challenging.
"Getting a group of athletes to play together is one thing, but getting them to function effectively together is another. Our culture is about conditions and meeting the standards."
In conceptualizing her approach to team culture, Becky implements a triangle with the 3 points of listening, understanding and DISC.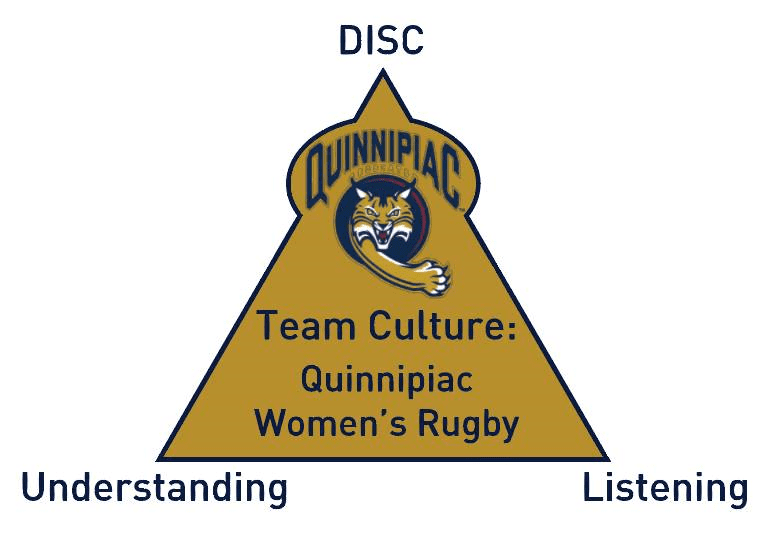 "I attribute so much of our success in our second year to DISC. Before DISC, I was coaching and teaching the sport. Now, I am coaching the athlete to play the sport more effectively and it has paid us back in dividends. There is a true interest by the Athlete Assessments staff to see your program thrive. They are more than a service, they become advisers in many ways that help you find answers to your challenges in coaching, rather than just giving you the solution."
Despite being one of the most successful programs nation-wide for on-field performances, the culture Becky has developed off it has contributed to Quinnipiac's consistent success since 2011.
Implementing a Dry Season – DISC in Action
In 2014, Quinnipiac started the discipline of a dry season to improve recovery rates, physical performance and come together as a team. But rather than autocratically imposing this rule with the threat of consequences, Coach Carlson endeavored to connect with her student-athletes and make them understand why the dry season was important. To do so, she used her student-athletes' DISC Profiles to tailor her communication. (New to DISC or in need a refresher? This introduction to DISC may help you understand the following example of DISC in Action.)
As Coach Carlson says: "to get people to do what you want, you have to give them what they want." So, what did she say to the different styles of student-athletes to explain why they were committing to a dry season? Well…

The Dominant Athletes: "We asked them if they wanted to win and be in the top 5."

The Influence Athletes: "We asked if they wanted the recognition from the local papers, the news stations and be heroes to young players across the country."

The Steadiness Athletes: "We asked them if they wanted a close-knit team culture that was stronger than any team they had ever been on and if they wanted higher rates of harmony and understanding with one another."

The Conscientious Athletes: "We gave the C's compelling data that showed just how much of a physical impact one night of alcohol could have and that it could wipe out two weeks of training."

Coach Carlson knew that one uniform method of communicating why the dry season was necessary would not connect with all student-athletes. Through her tailored communication, the team bought into the dry season, believing it would help them in their pursuit of the championship.

"They believed in the system because it was their choice and it took us all the way to the Final Four, as promised."
Getting into Coaching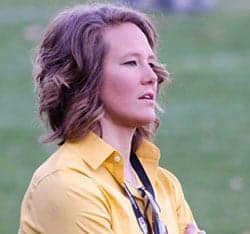 As the daughter of a tennis coach, Becky was assisting with coaching as early as 14. By 18, she was coaching youth classes for ten hours a day, six days a week. It was during this period when Becky discovered her talent for getting the best out of people. In a recent interview with Athlete Assessments, Becky eloquently describes the moment she learned to adapt her coaching style to connect with different student-athletes. Coach Carlson describes how after weeks of attempting conventional coaching strategies she finally had a coaching breakthrough – an AHA moment with the young athlete through an unconventional method.
"In that moment I did something I had never seen any teacher of mine do, but it worked. It went against every method I was taught in how to make contact but it just so happened that the way I was taught was of no interest to Luke."
To read the full version of the story, click here.
On Working With Athlete Assessments
"Our program recognizes the strengths of DISC and our staff could not be happier with the results it has yielded. I will say that there is work involved. As coaches we spend our days making decisions, itineraries, purchasing equipment, recruiting etc. If you are truly interested in DISC for your program, you must be willing to go beyond just reading profiles. The act of applying this does take work and additional effort but when you really look at all the other categories, the time investment for DISC ultimately lightens your load in all the other areas and then some. I would recommend DISC to those coaches who have a passion for becoming better at understanding their athletes and getting the most effective performances out of them."
You can read more about Becky Carlson and her AHA Coaching Moment here.
At Athlete Assessments, we're here to provide you with excellence in service and to help you be your best. If there is anything we can assist you with, please Contact Us.