Coaching, teaching, innovation, a flipped classroom, students with a growth focus and all in the context of sport at a University that made the Forbes list of the top 100 universities in the USA.
Dominic Morais, Assistant Professor of Sport Management at top 100 listed Trinity University, tells us more about that mix, talking about his teaching philosophy, the way he gets students to learn about their strengths and then use that self-knowledge to benefit group projects. He also compares teaching with coaching and unpacks the importance of self-awareness for success in life.
Trinity University is known for its challenging and supportive academic environment, personalized attention from outstanding faculty, large school resources, post-graduate preparation, and vibrant campus life. Trinity encourages students to discover, grow, and become. The University has a student to faculty ratio of 9:1, a population of just over 2,500 students and is situated nearby culturally rich and colorful, San Antonio. Trinity's ethos of innovation is apparent in the way that subjects are structured, professors approach teaching, and students tackle tasks.
To give you some context, Dominic's course is considered a capstone course for the sport management minor at Trinity. SPMT 3308 – Sport Management, is characterized by a semester-long group project which gives students an opportunity to engage with locally based national and international sporting teams, including the NBA's San Antonio Spurs, plus events like the Valero Texas Open and community organizations.
In addition to the group project, the Sport in Society course curriculum is structured so that each student undertakes a survey to generate their individual Athlete Assessments Sports ManagerDISC Profile report. Then, students learn about the science and psychology of behavioral profiling – what their unique personal profile means and how they can use it. Importantly, they learn about each other, how to recognize someone else's behavioral tendencies (so useful in the workplace in professional life as well!) and the most effective way to communicate with the people around them.
You can be sure that Dominic's students do not complete the semester long course with the same mindset they started. The curriculum is focused on developing student self-awareness and facilitating growth, while Dominic's personal teaching philosophy reinforces the role of challenging and learning about yourself. He says,"I believe more in providing challenges to students; my role is to provide guidance and support for THEM to better direct their energy and effort. I see this as a combination of teaching (allowing space for learning) and coaching (providing objectives and/or challenges). I then make sure to prioritize the process over the outcome, with the assumption that a quality process will often result in a quality outcome."
Further Dominic says, "I think teaching and coaching are very similar, and I believe that present day coaches and teachers (based on my experience in the United States) can learn a lot from one another. In terms of the approaches or techniques I use, much of it relates to simply understanding each person as a PERSON first, and then a student, or athlete, or any other aspect of their identity, next."
Building on this, Dominic talks about the value to students of understanding their own behavior. He says,
I think student self-awareness is paramount to long-term personal success.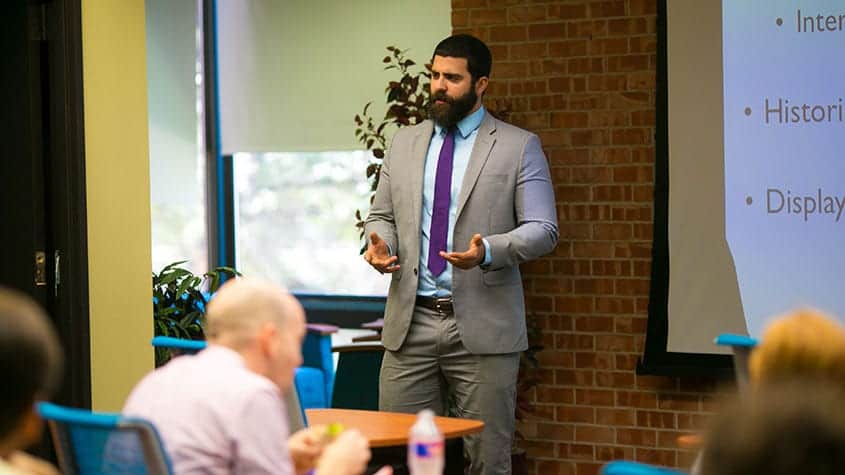 "Without self-awareness, I believe students are on autopilot. I am fortunate to work at a university where many students have adequate resources and social capital to efficiently navigate the college experience. Along with those resources often come pressures to 'be successful' in ways that may not resonate with the students. I believe this perceived pressure is only exacerbated in student-athletes.

As such, with self-awareness comes empowerment; empowerment in the form of students realizing what THEY like and what THEY don't like. They are better equipped to navigate a world that is COMPETING every second for their attention. By understanding where they stand, by understanding what grounds them, they can then understand what they will allow to receive their attention. This concept can be transposed to virtually any situation such as seeking a career, managing the college experience, navigating partnerships, and more."
Specifically, Dominic explains how students apply their self-awareness and DISC knowledge during group projects, he says that an intimate knowledge of their own profile, "allows folks to feel more comfortable with who they are as people. For instance, high C's often feel better about taking time to process, high I's feel better about having a faster pace and needing the 'people side' of work, high D's feel better about being outcome -orientated, and high S's feel better being more like chameleons and 'getting in where they fit in'."
"After feeling more comfortable, the students tend to establish roles for themselves that match their DISC profiles. For instance, C's might work hard on a literature review, while I's will conduct interviews. Moreover, they don't waste as much mental or emotional energy on "working things out" with one another. I think another way to put it is that it accelerates the development of synergy within groups, as students have an interpersonal blueprint of the group as a whole."
Athlete Assessments has been working closely with Dominic to facilitate student self-awareness. He had this to say about working with us, "working with Athlete Assessments has provided me with comfort and confidence in the form of resources and expertise. I could have provided a low quality explanation and teaching plan revolving around the DISC profile as I attempted to set up and manage group projects in class. That approach, however, would be a disservice to students. Instead, I am fortunate enough to have individuals whose expertise elicits respect from students. Knowing that everything DISC related will be handled by Athlete Assessments allows me to continue including an incredible long-term asset in my class, while more efficiently constructing other facets of class in such a way that the whole is greater than the sum of its parts."
Elaborating on the DISC learnings for students, Dominic says, "it's no surprise that Western society often celebrates being outspoken, thinking on one's feet, and being extroverted in many ways, especially in a corporate culture. With this in mind, I've found that students with slower-paced profiles find comfort in knowing they are not weird or wired for failure. It seems they also find comfort in realizing they are not alone. Finally, they find comfort in knowing that their behavior BRINGS VALUE to an organization or group. Then, they lean into their behaviors and hone them."
Dominic talks about the learning and content saying, "I feel very fortunate to have the type of classroom autonomy that I do. As such, I often tell people that I don't care as much about content as others might. This is not to say that content does not play a certain role in student learning. From my perspective, however, I believe that in the present information age, students can find content on their own if they are motivated. Instead, I do my absolute best to challenge the way students think."
"If students are able to weigh multiple perspectives of one issue, or alter their process of critical thinking, or simply encounter a different worldview, then I have done my job. I believe school is to help facilitate thinking. Not to tell students how to think or what to think. But simply to facilitating thinking in a way that is most helpful to leading a successful life as the student defines it."​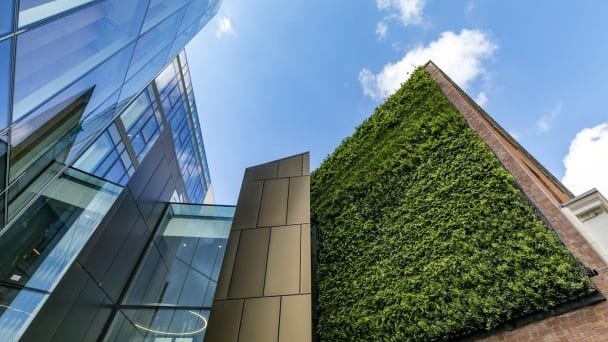 This approach permeates Dominic's teaching practices. Here he explains a technique where students are required to absorb and apply learnings from the material within the curriculum. He says, "we essentially flipped the classroom so that students read and look at lecture slides beforehand. Once class starts, they ask questions about the material on one day, and the next day their group is required to find some article (sometimes research, sometimes popular) related to the material, and then teach us for about 15 minutes on why it relates and what we can take away from it."
Dominic tells his students that following their passion develops value and leads to success. Recounting his own career path, he says, "I wanted to be a strength and conditioning coach at one point in time. After nine months in the position, I decided that was no longer the case. As such, I pursued the study of strength and fitness from an academic (historical perspective). After arriving on campus for my Ph.D. I was then asked if I wanted to shift toward sport management to make me a more marketable job candidate eventually, and I decided to stick with my plan/passion. I then chose a visiting professor job instead of a tenure-track professor job because I felt a better fit, and I was eventually promoted to a tenure-track position. While I feel like I'm bragging, I do think these examples demonstrate my experience of being rewarded for following my passions and giving all I have along the way. Things have seemed to just 'work out'."
Let us catch you up on Dominic's career with a quick backtrack and some specifics about his credentials. His passion for a career in sport was fueled by his ability and experience in training and competing on the football field in Texas. Eventually, he received a scholarship at Vanderbilt University. In time, he found his true interests lay in strength training and fitness. Following this interest led him to Eastern Illinois University, where he served as a graduate assistant strength and conditioning coach while earning a master's degree in Sport Administration. Upon completing his studies there, he moved away from coaching and toward his doctorate. He studied Physical Culture and Sport Studies at The University of Texas in Austin, with a research concentration on the intersection of business – specifically marketing and branding – and physical culture from a historical perspective. To summarize his impressive skill set, Dominic Morais has a Ph.D. in Physical Culture and Sport Studies, from The University of Texas in Austin; an M.S. in Sports Administration, from Eastern Illinois University; and a B.S. in Human and Organizational Development, from Vanderbilt University.
While we were talking about his career, we asked Dominic what he hoped to achieve in the future? He replied, "in the future I am aiming to integrate more psychological concepts into my classes. I enrolled in an applied sport psychology master's program in Fall 2020 in order to enrich my mentorship, my teaching, and my research. I also want to create a coaching class (or program), and I see this education as a necessary step to gaining academic expertise to supplement my practical expertise. Perhaps most significantly, I see this education as providing me with the knowledge to help "life coach" my students, which aligns with my holistic vision of teaching."
So, given Dominic's teaching philosophy, his strategies and program, it came as no surprise to us that when we asked him about the best feedback he'd ever received from a student – he replied that it was simply when a student said, "that I cared about them."
In conclusion, Dominic sums up the role of self knowledge by saying,
Self-awareness is, as I see it, a prerequisite for honest self-expression.
Where to from here?
Dr Dominic Morais uses Athlete Assessments' Sports ManagerDISC Profile as part of the Sport in Society program at Trinity University.
Whether you teach Sport Management, Sport Coaching, Sport and Health Sciences or sport psychology, provide your students with the skills to differentiate them when they enter the competitive sports industry. The success of your students reflects the success of your University Academic Program and we want to help you achieve success on all fronts.
Find out everything you need to know. We will send you a full information pack and organize your trial at no cost to you. We will also review your syllabus and make recommendations on the best way to incorporate the program within your class.
Contact us to receive your own information pack and free trial now.