What the All Blacks can teach us about the Business of Life
Click here to buy Legacy by James Kerr now.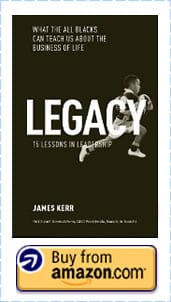 This book comes highly recommended from the whole team at Athlete Assessments. Whereas some other books on leadership and culture can be dense reads you feel forced to slug through, Legacy is compelling reading. It is very easy to read in a day or over the weekend, highlighting the exceptional culture and legacy of the New Zealand All Blacks, which has resulted in their tremendous success.
The book combines anecdotes from those directly involved in the All Blacks' success, to quotes and stories from some of the most successful coaches and people involved in sport. The pages are packed with insights, candid quotes, and irrefutable wisdom. Note the book is called 'Legacy' rather than any variation of 'Winning' or 'Champions'. This really highlights the key theme of the book. The All Blacks have always worked to create a long-term successful cultural legacy.
"A values-based, purpose driven culture is a foundation of the All Blacks' approach and sustained success… In fact, in answer to the question, 'What is the All Blacks' competitive advantage?' key is the ability to manage their culture and central narrative by attaching the players' personal meanings to a higher purpose. It is the identity of the team that matters – not so much what the All Blacks do, but who they are, what they stand for, and why they exist."
The 15 Lessons in Legacy are:
Character, Adapt, Purpose, Responsibility, Learn, Whanau, Expectations, Preparation, Pressure, Authenticity, Sacrifice, Language, Ritual, Whakapapa, and Legacy.
The summary on the back of the book really emphasizes the key themes of the book:
"Champions do extra. They sweep the sheds. They follow the spearhead. They keep a blue head. They are good ancestors. In Legacy, best-selling author James Kerr goes deep into the heart of the world's most successful sporting team, the legendary All Blacks of New Zealand, to reveal 15 powerful and practical lessons for leadership and business. Legacy is a unique, inspiring handbook for leaders in all fields, and asks: What are the secrets of success – sustained success? How do you achieve world-class standards, day after day, week after week, year after year? How do you handle pressure? How do you train to win at the highest level? What do you leave behind you after you're gone? What will be your legacy?"
In a video about Legacy, author James Kerr discusses his own insights into the All Black culture:
"I discovered that being the best in the world is about more than just technique. That rugby like business and like life is a game played primarily in the mind."
Legacy looks at the question of what makes the All Blacks such a successful team, and what is their competitive advantage. What could this team teach us about leadership?
"Central to their success is the phrase: 'Better people make better All Blacks'
It's about character and around it they've built this extraordinary culture. And it works. It took the All Blacks from a 75% winning record to an unbelievable 86%, and a little gold cup. In my work I see the power of values lead, purpose-driven storytelling every day.
Our Highlights from Legacy by James Kerr:
"Successful leaders balance pride with humility: absolute pride in performance; total humility before the magnitude of the task."
"The challenge is to always improve, to always get better, even when you are the best. Especially when you are the best."
"A collection of talented individuals without personal discipline will ultimately and inevitably fail. Character triumphs over talent."
"Only by knowing yourself can you become an effective leader" – Vince Lombardi.  For him it all begins with self-knowledge, with the great 'I Am'; a fundamental understanding and appreciation of our own personal values. It was on this foundation that he built his teams and his success. From self-knowledge, Lombardi believed we develop character and integrity. And from these qualities comes leadership."
"Winning takes talent', John Wooden would say. 'To repeat it takes character.'"
"Another remarkable man was American football coach Bill Walsh, who also considered himself a teacher first and a leader second.  Between 1979 and 1989, Walsh coached the San Francisco 49ers from an underperforming bunch of also-rans into one of the great dynasties in gridiron history by employing a similar philosophy. He believed that, "You get nowhere without character. Character is essential to individuals and their cumulative character is the backbone of your winning team."
"Create the highest possible operating standards, develop the character of your players, develop the culture of your team and, as the title of Walsh's book proclaims, The Score Takes Care of Itself."
"Walsh knew," Stuart Lancaster, the current England rugby coach, told rugby writer Mark Reason, "that if you established a culture higher than that of your opposition, you would win. So rather than obsessing about the results, you focus on the team."
"The challenge of every team is to build up a feeling of oneness, of dependence on one another," said Vince Lombardi. "Because the question is usually not how well each person performs, but how well they work together.""
"Performance = Capability + Behavior.  Leaders create the right environment for the right behaviors to occur. That's their primary role… Leaders design and create an environment which drives the high-performance behaviors needed for success. The really clever teams build a culture that drives the behaviors they need."
"The All Black's remarkable success on the field begins with a very particular culture off the field and it is this culture – the glue that holds it all together – that has delivered extraordinary competitive advantage for more than a century. To become an All Black means becoming a steward of a cultural legacy. Your role is to leave the jersey in a better place. The humility, expectation and responsibility that this brings lifts their game. It makes them the best in the world. What this means for leaders in other fields is the story of this book."
"I think all of those environments, whether it's a business environment or sporting environment, are about developing people. So, if you develop your people, your business is going to be more successful. It's just a matter of creating an environment where that becomes a happening every day. – Graham Henry"
"Talent was irrelevant. We carefully picked the players. We used matrices to back intuition, because there are certain stats in rugby that determine the player's character and that's what we were after. So we picked high work rate, strong body movers, guys that were unselfish and had a sacrificial mindset. We selected on character.– Wayne Smith"
"The great sports coaches of the past such as John Wooden and Vince Lombardi put humility at the core of their teaching. The All Blacks put a similar emphasis on their fundamental and foundational values, going so far as to select character over talent. The players are taught never to get to big to do the small things that need to be done. "Exceptional results demand exceptional circumstances," says Wayne Smith. These conditions help to shape the culture and therefore the ethos – the character of the team. Healing begins at the level of interpersonal communication, enabling an interrogative, highly facilitated learning environment in which no one has all the answers. Each individual is invited to contribute solutions to the challenges being posed. This is a key component of building sustainable competitive advantage through cultural cohesion. It leads to innovation, increased self knowledge and greater character."
The legendary Phil Jackson, former head coach of the Chicago Bulls basketball team, calls this the 'group mind' and it was the basis of his extraordinary coaching career. When Jackson first brought Michael Jordon to Chicago, he was the league's top scorer in each of his first six seasons, far and away the best player in the NBA, yet he had never won a title.
"A great player can only do so much on his own," said Jackson in his book Sacred Hoops. "No matter how breathaking his one-on-one moves, if he is out of sync psychologically with everyone else, the team will never achieve the harmony needed to win a championship."
This is the struggle that every leader faces. How to get members of the team who are driven by the quest for individual glory to give themselves wholeheartedly to the group effort.
"While the country is still watching replays and school kids lie in bed dreaming of All Black's glory, the team is tidying up after themselves. Sweeping the sheds. Doing it properly. So no one else has to.  Because no one looks after the All Blacks The All Blacks look after themselves.
"It's an example of personal discipline", says Andrew Mehrtens, former All Blacks fly-half (what New Zealanders call a first five eight) and the second highest All Black point scorer of all time.
"It's not expecting somebody else to do your job for you. It teaches you not to expect things to be handed to you."

"If you have personal discipline in your life, then you are going to be more disciplined on the field. If you want guys to pull together as a team, you've got to have that. You don't want a group of individuals."
"It's not going to make you win all the time, but it is going to make you better as a team over the long run."
At Athlete Assessments, we're here to provide you with excellence in service and to help you be your best. If there is anything we can assist you with, please Contact Us.
We hope you found this Book Review of Legacy valuable. You may also enjoy our other Book Reviews.
Where to from here?
There are many things that we can learn from others when it comes to creating the best culture for your team and ultimately winning more often. To make it easy, Bo Hanson has done the hard work for you by working with thousands of teams over the last 15 years and finding out what the best teams really do get right. You can benefit from these learnings through our Elite Team Program, which is designed to maximize value for the whole team, find out more here.