The story behind being the best athlete for the team.
I learned one of the most valuable lessons in my rowing career leading up to the 2004 Olympics in Athens. In all of the trials and races leading up to selection, I performed really well and felt I was in the best form of my career, and was often ranked the #1 rowing athlete in the country. For the 2004 Olympic Games I had been selected for the Men's Eight, and one morning our Athlete Liaison for that year, who fortunately happened to be John Eales, had come to practice one morning. John was chosen in this official capacity because of his experience in leading sporting teams, in Australia his name is synonymous with success. As an Athlete Liaison he was there to guide us through the issues and challenges we would face leading up to and competing at an Olympics. John captained Australia's Rugby Union team, the Wallabies, to tremendous success. During his captaincy they won the Rugby World Cup twice, and he remains the most successful captain in the history of Australian Rugby Union. This particular day when he watched us practice, he pulled me aside afterwards and said to me, "Bo, you know, when you're part of a team, there is something more important than being the best athlete ON the team. It's being the best athlete FOR the team." 
We often talk about 'a-ha moments' that define a career or part of our lives, for me, this is one of them.  
There's no question that every individual has to consistently be at their best in high-performance sport, but as athletes or coaches if that is our only focus, we miss out on a critical ingredient that is essential for creating a successful team. The concept of being the best athlete for the team.
The best athlete for the team, means that not only do you look after yourself as an individual, but you extend your thinking to include asking yourself how you can add value to someone else, and how you can make someone else a little bit better by being on the team with them.
Why pursue this performance strategy?
Being the best athlete for the team is actually an extension of your performance capability. Getting the most out of the people around you not only maximizes the performance of the group, but it also importantly creates the conditions which give rise to synergy.
Team synergy means that when the team works together its results are greater than the result that can be achieved by team members working individually. For example, if your team has four members their contribution could be numerically represented as 1+1+1+1=5 or 6 in a team that has created synergistic conditions.
What 'being the best athlete for the team' looks like
Regardless of the context, teams that function well typically act on collaborative behavior. When each athlete is able to contribute according to their strengths and effectively collaborate to solve problems or challenges the group face, then they will be playing for the team. To assist in your understanding of the application of this concept, we've detailed some specific examples of what 'being the best athlete for the team' looks like within different environments. 
Embedding 'being the best athlete for the team' into your culture
Culture develops a self-perpetuating energy around concepts which essentially determines 'how we do things around here'. Generally, team members will act similarly to what they are seeing around them, that's why it's so important for leaders to role model their team's values to the highest degree. If team--orientated behavior is important in your organization or program, it needs to be on display regularly for team members and new comers to emulate. If you want to discover more, watch our webinar dedicated to driving team culture and its impact on your team. 
Highlighting team centric behavior on your internal scoreboard and in your goals further drives the reinforcement for the importance of this behavior above individualistic efforts. Your internal scoreboard refers to the way you judge your team's efforts, it is independent of the game score and the way your efforts are typically judged. Your internal scoreboard will reflect whatever you are working on at the time, whether that's the number of passes that you complete or the number of assists you made, or perhaps the number of times you encouraged team mates, the list is endless and relevant to your team's personal performance goals.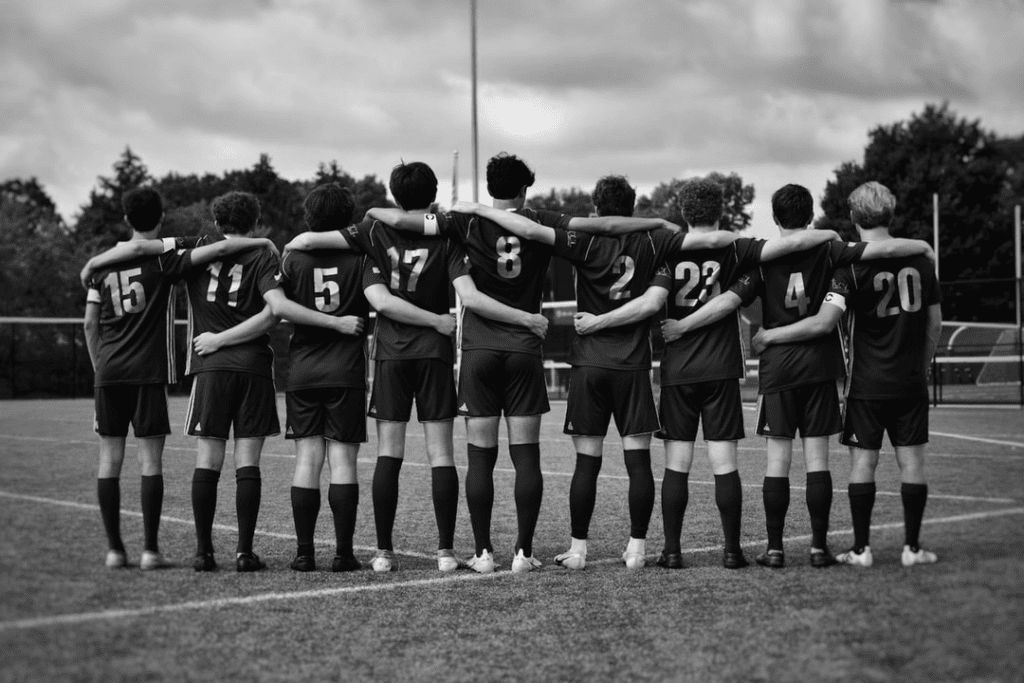 Preparing your players to be the best athlete for the team
Preparing your players to be the best athletes for their team will also build their capacity to enjoy their sport more, it increases each athlete's self-awareness and ability to collaborate effectively with their teammates. Everyone wants to enjoy their sport; it's a simple fact and an important one never to forget, because in sport, as in life, we can often find ourselves in challenging situations, or working with people we don't like. Knowing that you can directly impact the conditions which are conducive to a happier environment is valuable knowledge to hold.  Not only when teams are working well do we enjoy our sport more, but we usually perform better too. 
It's also important to note that one of the biggest threats to team harmony and synergy is unclear roles, inappropriate role allocation, and over-stepping the boundaries of your role. For a team to be effective it's imperative that everyone knows their role and does their role. To help you effectively do this, we recommend using the GRIP Model. We've written extensively on using this model for all aspects of team development, but the "R" in GRIP refers to roles. It's essential for teams who function in a healthy way to have clearly defined roles which suit the natural style of each athlete. Once you've decided what needs to be done in the team, it's equally as important to give the role to the right person. For example, a dominant style athlete is naturally directive, great at setting standards and focusing on completing the goal in front of them, but if you're asking them to instead support teammates and continually provide verbal encouragement, the role is potentially going to be a source of frustration and a distraction to their own performance.
it's also critical that each player is able to contribute to the team effort with their strengths. Accordingly, you need to know what your players strengths are in both a technical and non-technical capacity. While technical strengths are often obvious, invaluable non-technical strengths do not always present themselves so clearly. For example, some valuable non-technical strengths include the ability to analyze the game, bringing high quality energy to situations, encouraging other team members, and of course leadership. Athlete Assessments' DISC Profiles detail each individual's strengths, the pace they naturally and comfortably approach tasks both on and off the field, and situations that they perform best in. Collating this information can assist you in allocating the right role to each athlete. Learn more about DISC profiling and how it can help your team.
When you know and structure your environment to capitalize on your team members strengths you have multiple options and are difficult to defend. In contrast, individualistic behavior can undermine the team's performance, and is therefore detrimental to the team. When all of your team members are putting the team goals first, your results have the potential to improve dramatically.
Working with your team on the way they support each other's development and contribute to their team's playing style can generate lots of questions, if we can help you with any resources or customized strategies to answer those questions get in touch.
Where to from here?
At Athlete Assessments we're here to provide you with excellence in service and to help you be your best. If there is anything we can do to be of service, don't hesitate to contact us.