How Building Character Drives Higher Achievement and Greater Fulfillment in Business and Life
Purchase 'The Only Way to Win' by Jim Loehr now.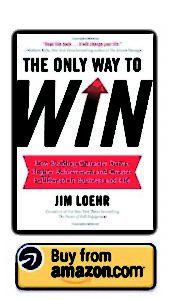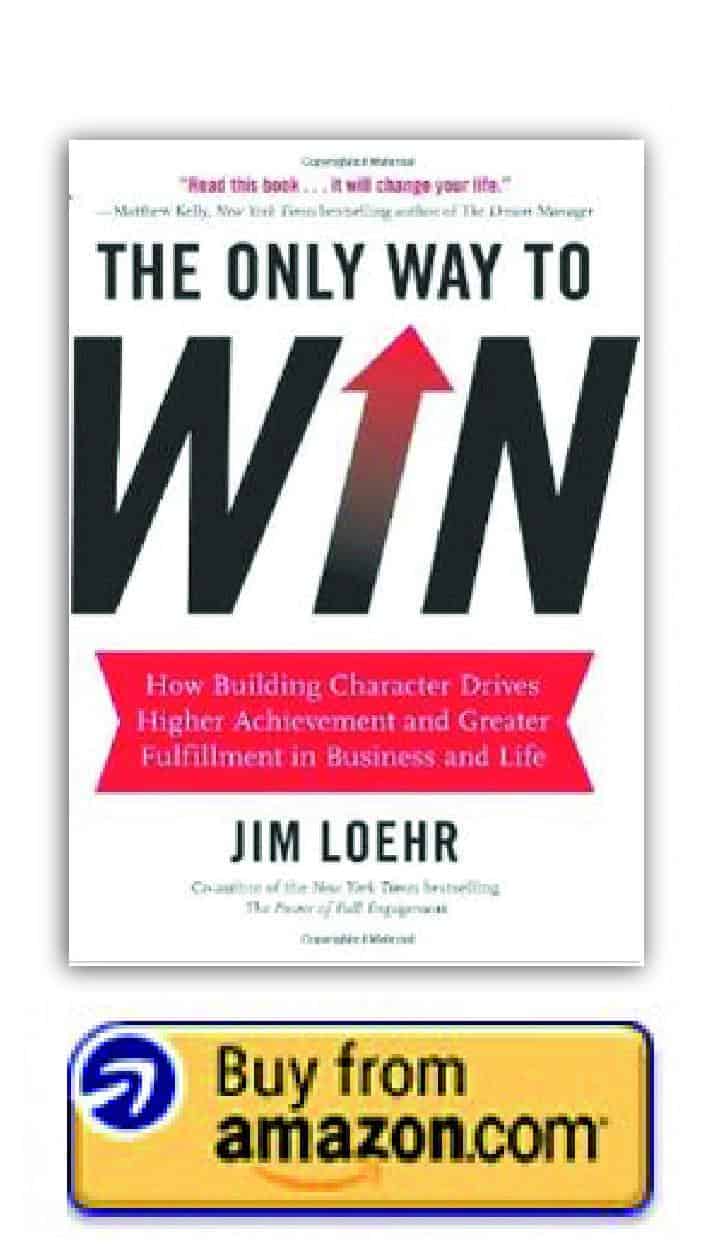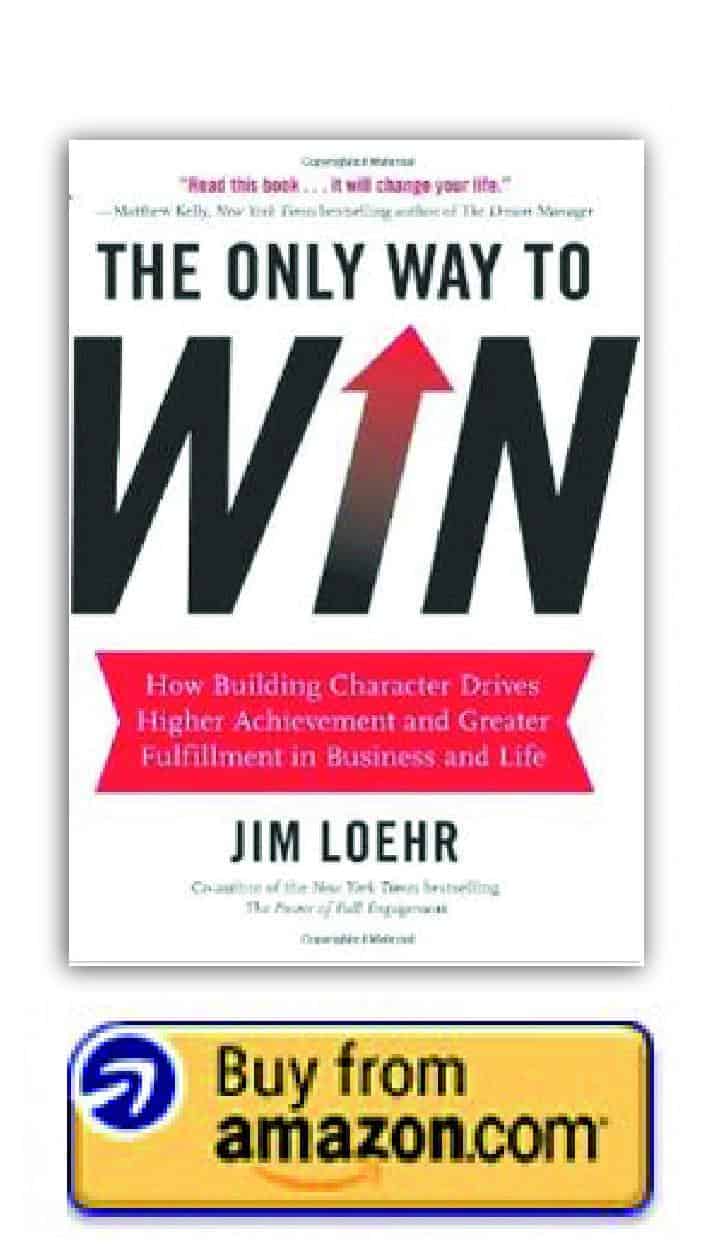 In his new book The Only Way to Win, Jim Loehr draws upon two decades of work with Fortune 500 executives, world-class athletes and other high achievers at the Human Performance Institute (HPI) to reveal surprising insights about achievement motivation. This core focus of this book is how winning alone, does not bring fulfillment nor does it answer people's desire for self-esteem, real meaning in their lives and contribution to the world. In fact, winning, even in sport at the highest level, changes nothing about how you ultimately feel about yourself, your relationships with others and the world overall. Loehr states:
"It's not really about what you achieve, it's about who you become as a consequence of the chase." 

More than ever, winning is not everything and there are far more important outcomes than what is pursued on the scoreboard, written about in the newspaper and seen on TV.
Today more than ever we are seeing the dangerous results of people from sport, business and politics, who pursue their goals with little consequence to how their behaviors affect others. Their 'win at all costs' mentality creates outcomes which dramatically unfold for the world to witness. From an early age we are told that great achievements bring happiness, fulfillment, and ultimately success. Therefore, it is our achievements we often link with self-esteem and our own understanding of ourselves.
This conditioning is present in most modern societies where material possessions are used as status symbols and to boost self-esteem. However,
"The blind pursuit of external achievement often results in emptiness, addiction, and, ironically, poor performance."
The Only Way To Win, explores how we can find more fulfilling ways to meet our core needs. In this process, we can "win". Winning is not about achieving a materialistic outcome. Instead 'winning' is attached to how we choose to pursue results, our core sense of meaning, our contribution to others and how we operate in our world in a sustainable way.
Lessons for Athletes: Personal and Performance Characteristics
Personally, I found this book to offer ways to help athletes focus on how they need to behave in their sporting pursuits and who they need to be. This is great for teams to use as the focus of team values. From these values, the team can clearly identify the behaviors required to be a great team member. The Only Way to Win features examples of role models demonstrating constructive and values driven behaviors to deliver winning results on the field. But, most importantly, the book also demonstrated how the role models also acted "off the field".
In The Only Way to Win, Loehr makes a very important distinction between Performance Characteristics and Personal Characteristics. This focus is the main thrust of the book.
Loehr describes Performance Characteristics as those qualities of a person which help them perform specifically in their chosen sport.
Examples of Performance Characteristics:
Narrow attention then rapidly broaden it.
Compose one's self under pressure.
Stay calm in the heat of the moment.
Focus outward and inward when necessary.
Communicate appropriately.
Mental toughness.
Manage stress.
Talk positively to one's self under pressure.
Be highly competitive and single minded.
Be structured or choose to move away from structured plans when needed.
The list of Performance Characteristics can go on and on. These Performance Characteristics are noted for each individual in relation to what their sport most requires of them. Then, each athlete can evaluate their strengths and limitations in these areas. Eventually they create a Character Scorecard which is used to measure their character post game or each week at practice. This helps evaluate improvement or areas to focus more on. Loehr then explains what Personal Characteristics are.
Examples of Personal Characteristics:
Honesty.
Compassion.
Integrity.
Empathy.
Work ethic.
Modesty.
Self Confidence.
Selflessness etc.
Once again, athletes are encouraged to create a Personal Characteristics Scorecard and evaluate their strengths and limitations. Importantly Loehr describes how Personal Characteristics define your relationship with yourself. It is this relationship which determines your fulfillment in life.
Lance Armstrong is used as an example of an athlete with incredible Performance Characteristics, but an absence of Personal Characteristics, which allowed him to cheat in order to win. No one questions his ability as an athlete, but he is questioned from a humanistic perspective. Armstrong is also an example of how the outcome of winning was desired more than anything. He did whatever it took to win with no regards to consequences. He is not the only athlete to take this path, as is described in The Only Way to Win.
Improving Personal and Performance Characteristics in The Only Way to Win
The Only Way to Win, looks at how to practically improve your Performance and Personal Characteristics. This can be done by looking for opportunities to develop "character muscle" in everyday situations. When we use this analogy of developing a muscle, we look at character development as a malleable concept (not fixed). In the same way as we go to the gym to develop muscular strength by doing squats (or any other exercise), we develop character by regularly and appropriately training it.
An example would be to develop self-confidence by purposefully taking part in a drama class or public speaking course. Although these activities are not related to sport, you need self-confidence to perform well. The self-confidence muscle is valuable for both life and sport. How it is developed is not important. This is the same as doing squats in the gym to develop lower body strength. Even though your particular sport does not require this exact exercise (except if you are a weight lifter), it is a valuable example. For example, squats help rowers develop the necessary power for their strokes in the boat. It is a relatively easy concept to understand.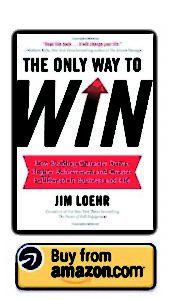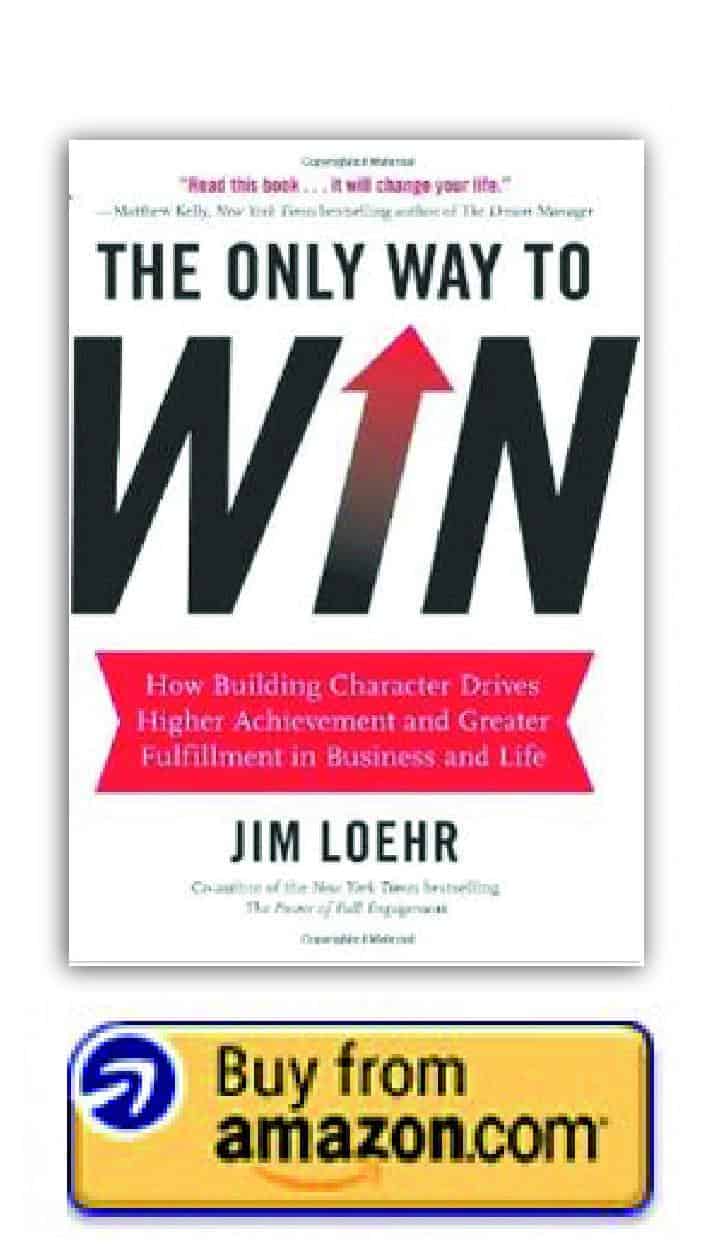 So the challenge becomes developing a "training program" for your character. This is what I loved about The Only Way to Win. It is practical and puts character at the forefront of our minds and at the heart of sustainable performance. More and more coaches we work with "get this" and refuse to recruit athletes with poor character. Although this is especially noticeable in college sport, it is slowly starting to happen in professional sport. Look at the ethical arguments about professional athletes who have criminal backgrounds, and whether they can be accepted into a sporting franchise when their character is questioned.
Today, character is on the front page. Sport needs quality role models. Society looks to sport to provide these role models to some degree. Loehr's strategies can help any team define its character needs and then how to achieve them. I recommend this book to every coach.
If you enjoyed this article, you may also find valuable our article on When all you have is Sport? or some of our other Book Reviews: