Nine Americans and their epic quest for gold at the 1936 Berlin Olympics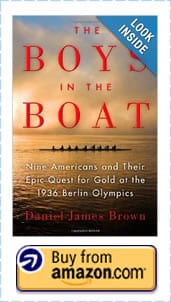 Why we recommend it:  This book is our number one, favorite book of 2013 (and possibly so far this decade – yes, it is that great!).  The Boys in the Boat is an irresistible story about beating the odds and finding hope in the most desperate of times—the improbable, intimate story of nine working-class boys from the American west who, in the depths of the Great Depression, showed the world what true grit really meant.  Drawing on the real-life diaries, journals, photos and memories of a once-in-a-lifetime shared dream, it is written by a masterful writer (Daniel James Brown).  You can also read our book review.
Book Overview: The book tells the story of the University of Washington's eight rowing crew and their epic quest for gold at the 1936 Olympics.  This crew transformed the sport of rowing, overcame enormous odds and grabbed the attention and hearts of their nation. First battling the elite crews from the east coast for selection as the USA Olympic crew, and then going on to defeat Hitler's eight at the 1936 Berlin Olympics, it has everything in it to make it a truly worthwhile and wonderful read.