By Liz Masen, Client Director at Athlete Assessments
A unique way of developing both life skills and leadership skills in student-athletes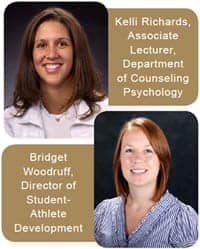 The University of Wisconsin – Madison intertwine two key athlete development programs for multiple benefits. Led by Kelli Richards and Bridget Woodruff, they say the outcomes are exceptional in assisting first year student-athletes transition well into college life while simultaneously developing leadership skills in their older student-athletes.
All first year students participate in the Life Skills Academy (LSA) consisting of eleven weekly one-hour sessions. The Peer Leaders Program (PLP) is for sophomore through senior student-athletes, by application, and is run through the Counseling Psychology department as a three credit course. The LSA has been running for seven years and changed to include the PLP component three years ago. The goals of working these two programs together was to enhance discussion of the student-athlete experience, gain from the benefits of mentoring and learn from each other.
The PLP includes weekly course work on leadership, using AthleteDISC Profiles to understand and further develop their leadership style, and utilizing the social change model. Concurrently they are involved in the LSA sessions as a practical application of what they learn in the classroom. Working in pairs, Peer Leaders facilitate discussions on various topics with small groups of first year student-athletes from the Academy.
"Through this class I was able to teach and mentor a group of first year students that I hoped to positively influence and help maximize their time here. I originally thought I was going to be doing most of the teaching, but as the semester carried on I realized I was learning much more. This class taught me a lot about working with others, my personal leading style, and how to lead all varieties of groups, not just athletes. The most important lesson was what it means to be a true leader. Sports might not be an important part of my life after college, but the lessons I learned in this course have prepared me for success."
– Quote from a Peer Leader, Fall 2013
Kelli says the listening, questioning and facilitating skills of the Peer Leaders improves dramatically, while also benefiting from learning about different leadership styles in action.
"A few years ago, one of the Peer Leader pairs consisted of a prominent, very quiet and conscientious basketball player (high 'C' in DISC) with a very extroverted swimmer (high 'I'). It was amazing to watch their relationship grow as they learned more about the other's leadership style and how to accommodate both styles as they led their group together. There was some conflict, but because we had the DISC framework to understand those different styles, it gave us a great opportunity to understand and discuss the strategies to work with each type."
Kelli adds, "The AthleteDISC has been the best assessment tool I have used. Almost every student finds a personal connection with their DISC style and we continue to infuse it in the work we do throughout the semester so we have a common language to talk about leadership style and personal preferences." Bridget believes that the support across the university contributes greatly to the success of the programs, particularly from coaches who directly see the benefits within their teams.
This article was featured in our latest People+Sport Magazine: Team Success Edition which is available to read online and in PDF here.
THE FOUNDATION OF EXCEPTIONAL LEADERSHIP
Legendary coach Vince Lombardi believed in the importance of strong self-awareness in both coaches and players. He said that from self-knowledge we develop character and integrity, and from integrity comes leadership. "Only by knowing yourself can you become an effective leader." The 2008 Olympic study into the most important contributing factors to success were:
 Athlete self-awareness
Strong coach–athlete relationship
Optimal training environment
Ensure your athlete leadership program benefits from this powerful foundation. Rely on the recognized industry expert for the most relevant self-awareness tool for athletes.
Find Out What the Best Athlete Leadership Programs Get Right.
At Athlete Assessments, we're here to provide you with excellence in service and to help you be your best. If there is anything we can assist you with, please Contact Us.