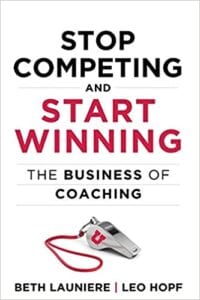 Book Overview:
Whether you're a coach or athlete searching for that competitive advantage the other teams in your division don't have, or if you're a corporate professional looking to introduce the competitive spirit of sport into your business to drive results, then this is the book for you. In Stop Competing and Start Winning: The Business Of Coaching, Beth Launiere and her co-author Leo Hopf, discuss the not often talked about techniques and tools they apply to develop a group of athletes into a championship winning team.
In reading this book you can rest assured that the advice and knowledge being presented is backed by a wealth of experience with authors Beth and Leo having more than 30 years of high-level experience within their respective fields. Coming into her 32nd Season with University of Utah as head volleyball coach, Beth is coming off of being named the Pac-12 Coach of the Year and reaching the NCAA Division One Sweet Sixteen. While, Leo is an experienced management consultant who has advised some of the world's most dynamic and complex organizations on their strategies, decision making, and organizational effectiveness.
Why We Recommended It: At Athlete Assessments we're huge fans of this book because we're huge fans of Beth! We're so excited to be celebrating and congratulating our client in sharing her wisdom and decades of experience and success in this book. Need we say more?
Read our article on one of the authors, Beth Launiere here.