By Kate Ross, Athlete Assessments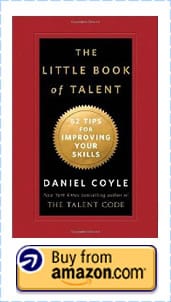 In essence 'The Little Book of Talent' by Daniel Coyle explores 52 Tips for Improving Your Skills.  However in reality it is so much more.  We loved Daniel Coyle's bestselling book The Talent Code, and this book continues Coyle's tradition of insightful examples and tremendous principles which can be easily applied to 'real life' situations.
This book is an essential guide for anyone who ever asked, "How do I get better?" On the back cover, Charles Duhigg, author of 'The Power of Habit' is quoted as saying,
"This book should be given to every graduate at commencement, every new parent in a delivery room, every executive on the first day of work.  It is a guidebook- beautiful in its simplicity and backed by hard science-for nurturing excellence"
Duhigg's emphasis on the guidebook nature of this book is spot on.  One of the greatest commendations for this book is its simplicity.  However the simplicity of the tips does not mean they are being oversimplified.  As Coyle explains "simplicity is the point".  The importance of simplicity is clear: "Because when it comes down to it, we're all navigating busy, complex lives.  Parent or teacher, kid or coach, artist or entrepreneur, we all want to make the most of our time and energy."
In only 160 pages this book covers a wealth of knowledge in three sections; Getting Started, Improving Skills and Sustaining Progress.  Getting Started comprises of ideas for igniting motivation and creating a blueprint for the skills you want to build.  Improving Skills focuses on methods and techniques for making the most progress in the least time.  Whilst Sustaining Progress finds strategies for overcoming plateaus, keeping motivational fires lit, and building habits for long term success.  All three sections are valuable for anyone, coach or athlete.
Each section includes a collection of simple, practical tips for improving skills, taken directly from the hotbeds Coyle visited in The Talent Code and the scientists who researched them.   All tips in this ensemble can be fairly easily incorporated into a current routine, involving a short visualization, or a different way of performing skills.  The tips can include anything from Tip #3 Steal without Apology, to #5 Cultivate Your Grit, to #30 Take a Nap to #42 Coach with Vivid Information:
We highly recommend this book. It takes a new approach to the traditional understanding of how to achieve excellence, as Coyle did in The Talent Code. Aristotle is quoted at the start of this book:
We are what we repeatedly do. 
Excellence, then, is not an act but a habit – Aristotle
The Little Book of Talent embraces this concept wholeheartedly.  Between the pages left for notes, and the list of further reading, this book provides a uniquely interactive way to help you achieve your potential.   Click here to buy it now on Amazon.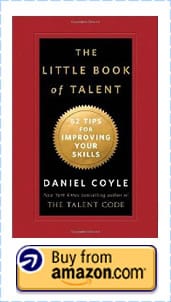 At Athlete Assessments, we're here to provide you with excellence in service and here to help you be your best.  If there is anything we can assist you with, please Contact Us.