Your Path to Peak Performance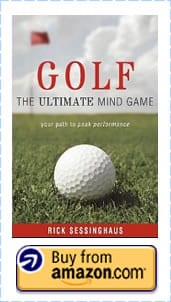 Why we recommend it: GOLF The Ultimate Mind Game is not only for golfers.  What we love about this book is that it takes sport psychology principles, explains them in plain English and gives relevant examples of the application.  Few sport psychology books can claim this.  While obviously all of the examples are golf examples, it is very easy for you to extend the content to your own sport.  If you've been hesitant to learn more about sport psychology or previously put it in the 'too hard basket', this book will very simply and effectively teach you more than enough to make a step change in your program.
Book Overview:  In Golf The Ultimate Mind Game Rick Sessinghaus maps out the mental and emotional skills needed to play your best golf. Throughout this book you will be learning the latest performance psychology skills to improve how you perform on and off the golf course. While the basis of the book is golf, it is a great book for any sports application.  The book details how to stay focused and block out distractions, develop confidence in your abilities, embrace pressure to play your best when it matters most, reconnect with why you play so you can enjoy it and much more.