The All-American Race to Make Champions of Our Children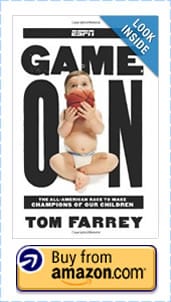 Why we recommend it:  While written back in 2007, unfortunately many of the cautionary lessons from Game On by Tom Farrey remain unlearned.  This book should be read by every sport development professional, coach, parent and really anyone involved in sport, is involved with children or is a human!  While it does get a tiny bit opinionated in places, the book pulls together an enormous wealthy of research, coupled with stories of people Tom has met.  With his background as an investigative journalist and extensive experience with ESPN, this book is exceptional well written and keeps you captivated in this important topic.  For the benefit of all sport, please read this book. You'll swing between being surprised, alarmed, reflective, thoughtful, and hopefully, empower by the end.
Book Overview:  Game On dives into the world of sports that are played by more than 30 million American boys and girls, and along the way uncovers some surprising truths. Farrey examines the lives of child athletes and the consequences of sorting the strong from the weak at ever earlier ages: fewer active kids, testier sidelines, rising obesity rates, and U.S. national teams that rarely win world titles.  He identifies when the very best athletes enter organized play, the best approach to coaching them and the powerful influence of wealth and genetics.  Importantly, he discovers what the real outcomes of a landscape in which performance is prioritized over participation in youth sports.