Professor James Skinner, Aaron Smith and 
Dr Steve Swanson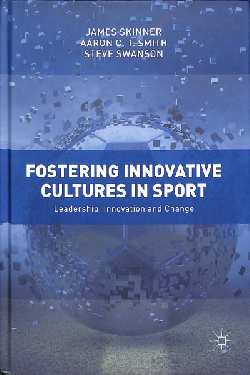 Book Overview: 
In this exciting analysis of sport business, authors estimate the global sports market; which includes events, infrastructure, training, plus the manufacture and retail of sporting goods, to be worth around $700 billion. They attribute the market's rapid rise in value to the entrepreneurial actions of key players in media and sport management. These far-sighted innovators could see athletes as brands in their own right. They also saw and developed sports like football, motor racing, tennis and cycling, into the internationally popular mega-events that they've become. Accordingly, the book analyses the role of innovation and leadership in sport business, looking at the role that individuals play within organizations and the market itself. This book is full of opportunities to learn and ultimately the take homes include how to create and maintain a culture that fosters innovation and stay ahead of the game in an increasingly competitive global sport market.
Fostering Innovative Cultures in Sport
 is segmented into six chapters; the Introduction, Chapter 2 analyses the role of entrepreneurship and the way that thoughts create actions, Chapter 3 examines leaders as the drivers of innovation, Chapter 4 maps innovation in sport, Chapter 5 looks at creating innovative sporting cultures, and Chapter 6 analyses the way that successful cultures champion innovation.
The three authors who collaborated to produce Fostering Innovative Cultures in Sport, are 
faculty at the Institute for Sport Business
, the postgraduate campus of the #1 sports university in the world, Loughborough University, London, UK.  Professor James Skinner is Director of the Institute of Sport Business, Aaron Smith a Professor of Sport Business and 
Dr Steve Swanson, Program Director
 of Sport Business and Leadership MSc.
Why We Recommended It: 
At Athlete Assessments we love this book because it provides a brief and well documented overview of the development of sport business. Plus, the discussion around innovation and culture is invaluable. Innovation and culture drive everything we do at Athlete Assessments, they are two of the most critical elements for success in every aspect of sport, whether that's on the court, in the classroom, front office or in administration. To perform at the top of your field you must be a leader in innovation and you must be proactively creating and maintaining a culture that drives success.