We continue to strive to lift our game in providing an exceptional level of service and the highest quality products. Most recently, we've been working on DISC survey design improvements for our three DISC Profile assessments and we're excited to share the latest development.
What's Changed?
The content of the DISC survey remains the same, but we've improved the survey interface so that it is mobile device friendly, making it easier to complete on phones and tablets. (It works nicely on desktop and laptop computers too.)
The key change is that there is a page for each question of the survey and rather than clicking on which word is most and least in the old design, you drag the words you choose into the boxes. As an example, a screen shot is shown below.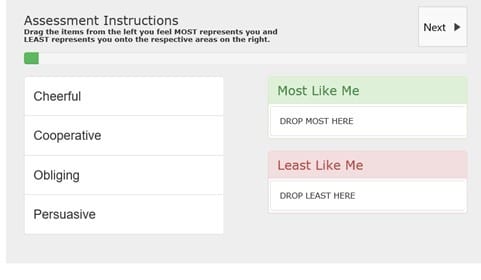 We welcome you to try out the new design yourself and if you have any questions, please Contact Us.
Also, we encourage you to provide your feedback and suggests on how we can continue to improve our products and service. We are committed to excellence and believe the 0.1%'s matter. It makes all the difference in being the market leader in our field.