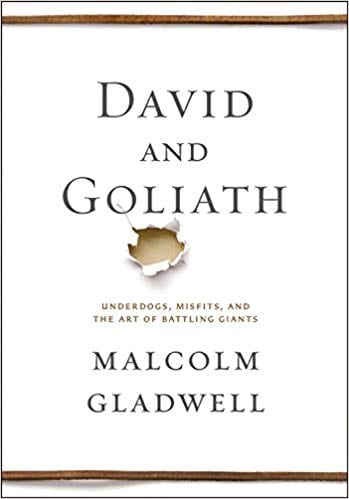 When I heard Malcolm Gladwell had a new book out, I ordered it without even finding out the title (well, almost, I had to find out it's title to order it!)  I've read all of his books, and this one is yet another great contribution to literature and life lessons.  It challenges you to ask yourself questions such as whether you'd wish dyslexia on your own child. Of course you wouldn't, but he does push you to rethink how you perceive disability and disadvantage.  There is an upside.
What the David and Goliath is About
As with his books before, Gladwell challenges how we look at the world around us and uses his unique style to present a strong case for questioning status quo thinking.  He takes research, recent real-life examples, historical events, religious stories and psychology to provide a different way to look at how we perceive the underdog and disadvantage.  He offers a new interpretation of what it means to be discriminated against, or cope with a disability, or lose a parent, or attend a mediocre school, or suffer from any number of other apparent setbacks.  He highlights endless cases of when difficulty paradoxically turns out to be desirable.
After the introduction in which the 'real' meaning of the David and Goliath story is presented, the book progresses through three parts, starting with the advantages of disadvantages (and the disadvantage of advantages).  Part one includes a fantastic real-life example of the most unlikely of basketball teams making it all the way to the national championships final, an examination of the impact of class size, and a discussion on what makes better decision criteria for choosing where to get your college education, particularly in the sciences.  Part two continues on the theory of desirable difficulty and part three on the limits of power.
For me personally, it validated the outcomes of my own humbling experiences growing up, and now as a parent, why it's important not to make it 'too easy' for our children.  It's the compensating for difficulties that drives the need to develop other skills to overcome the disadvantage, that in the end, proves highly advantageous.  This book is uplifting and gives enormous hope and encouragement.
Even with only a few chapters relating to sport directly, we can take much from this book.  It helps to explain why having the best equipment, facilities and perceived superior "everything" doesn't consistently lead to being able to achieve the most or world's best (and so often doesn't).  Before you spend any more money on the latest and greatest, read this book to get perspective on what can really make the difference in what can be achieved.  You'll never underestimate the underdog again, and for good reason.
Watch Malcolm Gladwell Discuss How He Got the Idea for David & Goliath

My favorite page of David and Goliath by Malcolm Gladwell
Below is an extract from page 275:
"It is not the privileged and the fortunate who took in the Jew in France.  It was the marginal and the damaged, which should remind us that there are real limits to what evil and misfortune can accomplish.  If you take away the gift of reading, you create the gift of listening.  If you bomb a city, you leave behind death and destruction.  But you create a community of remote misses.  If you take away a mother or father, you cause suffering and despair.  But one time in ten, out of that despair rises an indomitable force.  You see the giant and the shepherd in the Valley of Elah and your eye is drawn to the man with the sword and shield and the glittering armor.  But so much of what is beautiful and valuable in the world comes from the shepherd who has more strength and purpose than we ever imagine."
And I can't resist also sharing this from page 190:
"But we need to remember that our definition of what is right is, as often as not, simply the way that people in positions of privilege close the door on those on the outside."
If you loved Malcolm Gladwell's earlier bestsellers (The Tipping Point, Blink and What the Dog Saw), you'll enjoy his latest book in David and Goliath.
We hope you found this Book Review valuable and are also inspired to read it too. You may also enjoy our other Book Reviews.
At Athlete Assessments, we're here to provide you with excellence in service and to help you be your best. If there is anything we can assist you with, please Contact Us.