By Kerry Patterson, Joseph Grenny, Ron McMillan and Al Switzler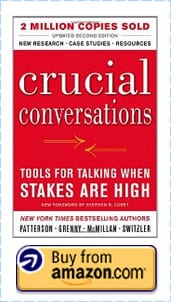 Why we recommend it:  Crucial Conversations A quality book on a topic that everyone in sport needs to deal with – it is a must-have on every sports coaches' bookshelf (and ideally well read!).  In sport, stakes are often incredibly high and it is these times that miss-handling the situation can be extremely costly.  This book provides a 'how-to' guide for success in any conflict.  Click here to read our article where we refer to the book and how to have crucial conversations.
Book Overview: "The quality of your life comes out of the quality of your dialogues and conversations. Here's how to instantly uplift your crucial conversations." The authors of this bestseller show you how to achieve personal, team, and organizational success by healing broken promises, resolving violated expectations, and influencing good behavior.  Learn how to keep your cool and get what you want when emotions flare.  When stakes are high, opinions vary, and emotions run strong, you have three choices: Avoid a crucial conversation and suffer the consequences; handle the conversation badly and suffer the consequences; or read Crucial Conversations and discover how to communicate best when it matters most. This wise and witty guide gives you the tools you need to step up to life's most difficult and important conversations, say what's on your mind, and achieve positive outcomes that will amaze you.