How to Get Things Right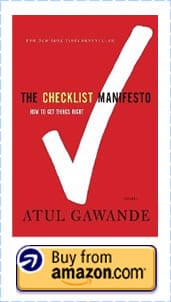 Why we recommend it:  An unlikely book for our recommended list but a client recommended it to us and when we read the Checklist Manifesto by Atul Gawande, we all really enjoyed it. Very little about sport directly but some great gems within that you'll be interested to know and keen to implement. (Click here to read the article that we refer to The Checklist Manifesto book.) More for the avid reader than someone looking to build their knowledge on sport and coaching, but if you have any family or friends in the medical industry – it is a must-read for them.
Book Overview:  In his latest bestseller, Atul Gawande shows what the simple idea of the checklist reveals about the complexity of our lives and how we can deal with it.  The modern world has given us stupendous know-how. Yet avoidable failures continue to plague us in health care, government, the law, the financial industry—in almost every realm of organized activity. And the reason is simple: the volume and complexity of knowledge today has exceeded our ability as individuals to properly deliver it to people—consistently, correctly, safely. We train longer, specialize more, use ever-advancing technologies, and still we fail. Atul Gawande makes a compelling argument that we can do better, using the simplest of methods: the checklist. And the insights are making a difference.