May and June 2019 NCAA Women Coaches Academies in Denver Colorado, USA
The next two series of the highly acclaimed NCAA Women Coaches Academies are underway in Denver, Colorado, May 29 – June 1, and June 19 – June 22, 2019, lifting coaching to new levels.

During each set of dates, a NCAA Women Coaches Academy is run, alongside the graduate program Academy 2.0. These Coaches Academies cover the hot topics on coaching agendas and enhance the skills that every coach needs to stay at the top of their game. The Academies are unique opportunities for women coaches to develop valuable professional networks, meet other female coaching colleagues, mentors and peers plus connect across all three divisions and sports. Of the transformative opportunity, WeCOACH Executive Director, Megan Kahn says, "the NCAA Women Coaches Academies continue to provide the necessary and needed education and development to support female coaches."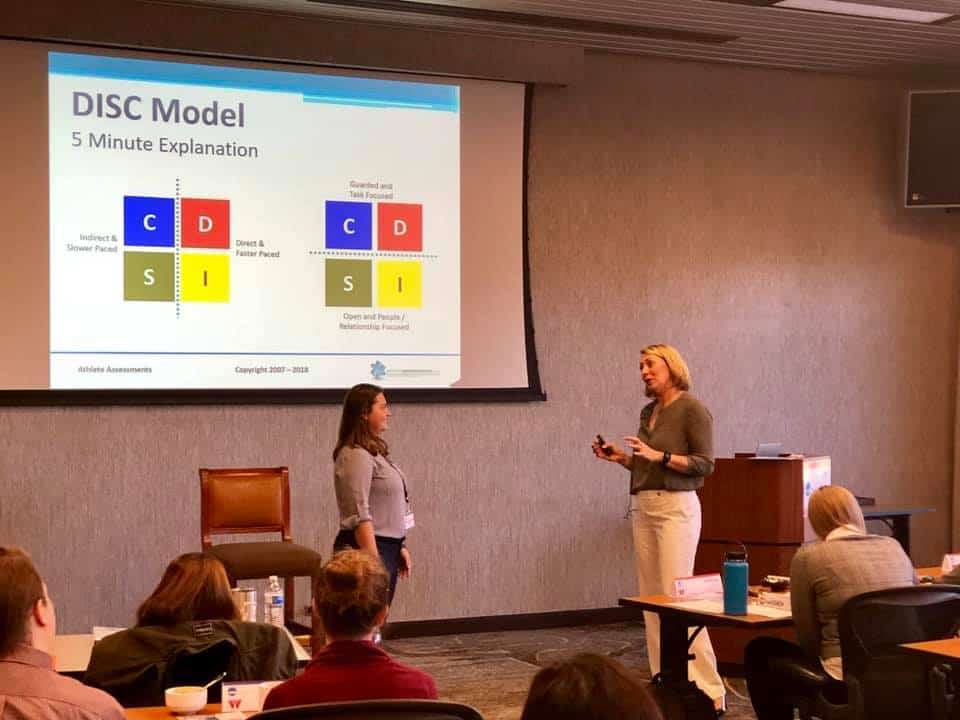 This year fifty-four female coaches of all experience levels and sports from NCAA Division I, II and III were selected to participate in the NCAA Women Coaches Academy, while twenty-two were selected to partake in the master-learning NCAA Academy 2.0 program.
WeCOACH assembles an impressive team of presenters to deliver its 4 day training programs, which are tailored to suit NCAA coaches of all experience levels. This Women Coaches Academy the multidisciplinary team of specialists includes;  Nicole LaVoi, Ph.D.
Tucker Center Co-Director, Cecile Reynaud, Ph.D. USA Volleyball & WeCOACH Board of Directors, Marlene Bjornsrud and Liz Masen, Client Director for Athlete Assessments.
Also through the Academy 2.0, WeCoach gives women coaches an opportunity to stay ahead of the curve with a 'master-class' extension program that builds on the skills, strategies, and knowledge gained from previous Women Coaches Academies programs. Academy 2.0 is exclusively available to Women Coaches Academies graduates.
Of the long standing and successful relationship with the National Collegiate Athletic Association (NCAA), Kahn says, "earlier this year, WeCOACH announced the continuation of its partnership with the NCAA to provide programming to female coaches of NCAA sponsored-sports. The new structure will now include Academy 2.0 aligning within the partnership, as well as the longstanding NCAA Women Coaches Academy."
Further, she says, "the development of this next-level professional and personal development will allow WeCOACH to continue serving and supporting female coaches in their career journeys. The 3-day NCAA Academy 2.0 was established as a master-learning program intended to enhance and advance the knowledge gained during the NCAA Women Coaches Academy."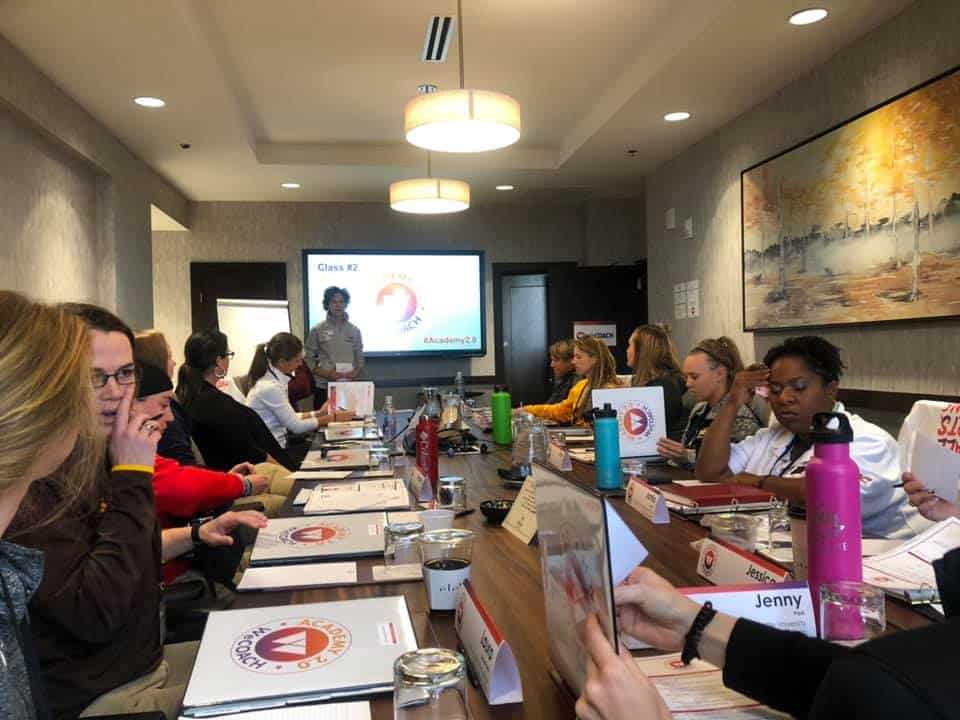 The schedules for the 2019 Academies look exciting. Packed full of learning opportunities including character coaching, game plans for inclusion, and communication strategies, there will be plenty in store for this year's participants. WeCOACH's Director of Events and Communication from Ann Walker, says, "we look forward to welcoming this year's cohort to the NCAA Women Coaches Academy. In having the opportunity to hear from some of the best and brightest women leaders, scholars and coaches in sport, I know that each coach in attendance will grow both personally and professionally."
With such great program success WeCOACH is renowned for its ability to empower and support women coaches. Ann Walker, has played a significant role in the organization's success and will be directing her last Women Coaches Academies this year. Kahn says, "Ann's commitment to serving women coaches and women in sport is unparalleled. She joined the organization at a pivotal time and played a significant role in our growth. There are many qualities about Ann we will miss, none more so than her contagious and fun-loving personality. We wish her well in recruitment (and on the golf course!)".
Liz Masen, Athlete Assessments' Client Director, is looking forward to the 47th and 48th Women Coaches Academies and the 3rd and 4th Academy 2.0's.
She has personallybeen involved with the pivotal organization since 2009, presenting three times a year at every WCA since 2010 and Academy 2.0's since they started.
This year she presents three sessions at the WCA on CoachDISC, communication, and values; and at the 2.0 extended sessions on presentation skills and using the 360 observer feedback capability included in the CoachDISC Profile.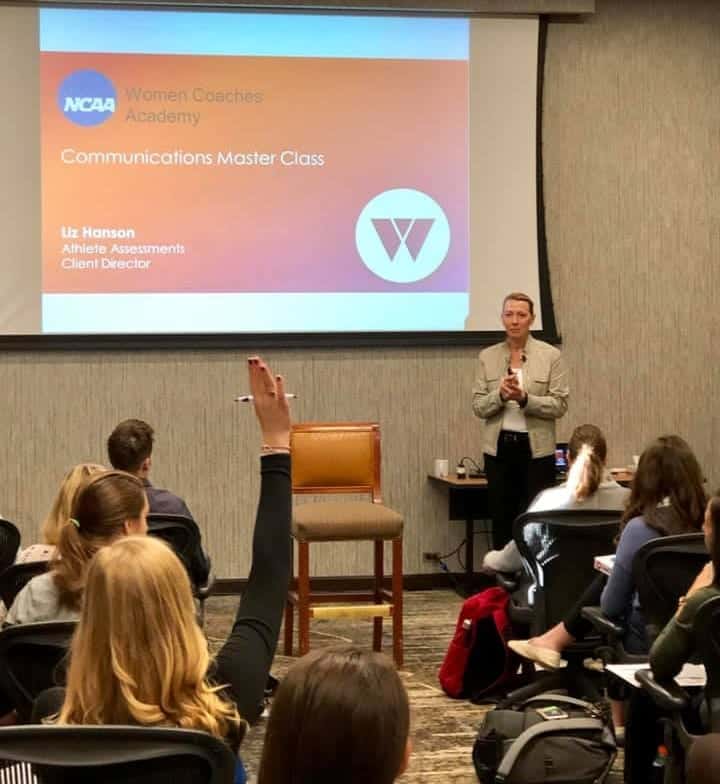 Liz says, "the benefits 360 observer feedback are often over-looked. If we start from the premise that our team only give us feedback because they want us to be better at what we do, then all of a sudden what they've got to say becomes critically important."
In preparation for attending the Women Coaches Academies, each coach completes their own CoachDISC Profile (a 12-minute online survey that results in a personalized CoachDISC Profile Report) which is used and referred to throughout the program. The CoachDISC Profile Report details unique coaching styles, strengths, limiting behaviors, communication preferences and environments which elicit peak performance.
Liz says, "the first workshop I deliver focuses on the debrief of coaches own CoachDISC Profile results. I do this in order to help them deeply understand their coaching style. By focusing on their own style, and better understanding others, they find new ways to further improve their coaching and communication with others. Through working with such a large group of diverse coaches it quickly becomes clear how similar and different they are, and how differing coaching styles may be more or less effective in differing situations."
She adds, "having the opportunity to contribute to the Women Coaches Academy is an absolute honor and something I look forward to every year. Every opportunity I get to present is such a unique and phenomenal experience. I really look forward to immersing myself in the Women Coaches Academies culture and never tire of being able to immerse myself in a group of impressive women coaches who are committed to their profession, passionate about their sport, and dedicated to the student-athletes they mentor. The women are so inspiring, and I learn as much as I teach."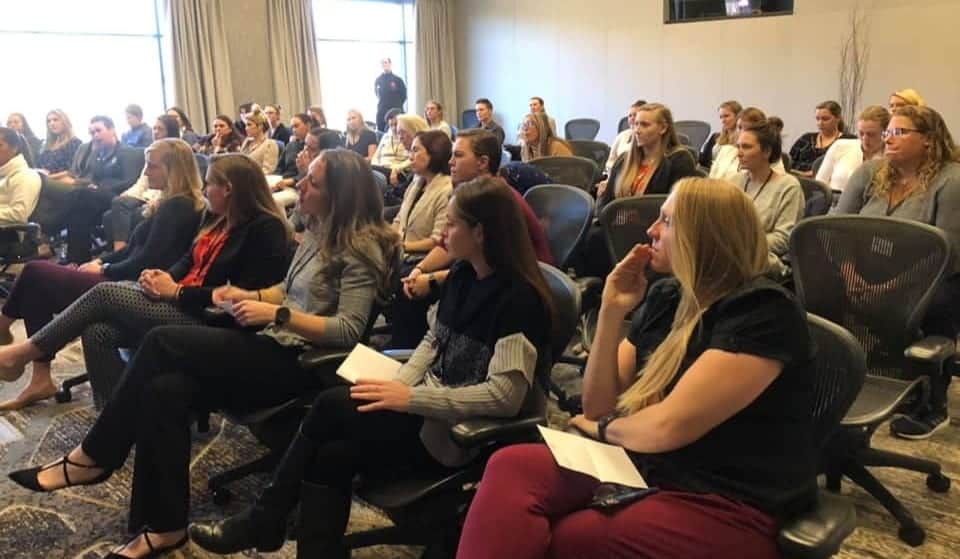 Summing up what the Women Coaches Academies is all about, Liz says "in my experience, the best coaches are always open to learning, even with decades of experiences and championships under their belt. Academy 2.0 offers an opportunity for seasoned coaches to learn not only from faculty, but also from each other".
The Academies give women coaches the opportunity to further develop their game by learning advanced skills and strategies that directly affect their personal and team success. In an environment that fosters inclusion across the sports community, coaches are able to shift their focus, transcending the X's and O's of sport to gain valuable insights from highly respected presenters and facilitators.
WeCOACH do such a phenomenal job of building upon their past initiatives to advance, educate, and support females in the coaching profession. And, we know that you support women in coaching positions as much as we do, so we've included a link to WeCOACH's merchandise – wecoachsports.org
---
At Athlete Assessments, we're here to provide you with excellence in service and here to help you be your best. If there is anything we can assist you with, please Contact us.