June 2018 NCAA Women Coaches Academies in Denver Colorado, USA

The two NCAA Women Coaches Academies (WCA) run during June 2018 in Denver, Colorado, are outstanding opportunities for women coaches to learn advanced skills and strategies that directly affect their personal and team success.
The Academies are run by the Alliance of Women Coaches from May 30-June 2, and June 14- 17 2018. The coaches focus on concepts beyond the X's and O's in an environment that fosters inclusion across the sports community and with a highly respected faculty of presenters and facilitators.

"The NCAA Women Coaches Academy continues to provide the necessary and needed education, development and support to female coaches," said Alliance Executive Director Megan Kahn. "The transformative experience and unique environment allows women coaches to connect across all three divisions and sports."
The coaches participated in full group and small breakout sessions on leadership, diversity, team culture, communication, career advancement, Title IX and history of women in sport, and work-life balance to name a few.
"Our outstanding partners provide a meaningful and life-changing professional development opportunity for female coaches," stated Amy Wilson, the NCAA Director of Inclusion. "The Academy Classes are groups of amazing, talented women who formed a network and gained knowledge that will support their efforts to persist and to succeed in the coaching profession."
Ann Walker, Director of Events and Communication from the Alliance of Women Coaches, says, "we look forward to welcoming Classes #44 and #45 to the NCAA Women Coaches Academy during June. Without a doubt I know the 48 coaches in each class will be forever transformed having the opportunity to hear from some of the best and brightest women leaders, scholars, and coaches in the sports industry. We are grateful of our presenters taking the time to be in Denver to give back in an important and meaningful way!"
Liz Masen, Client Director of Athlete Assessments, which specialises in the 'people side of sport', is presenting three sessions that work on the skills that build results – self-awareness, more effective communication strategies and good working relationships, and getting clear on what is most important to them as coaches.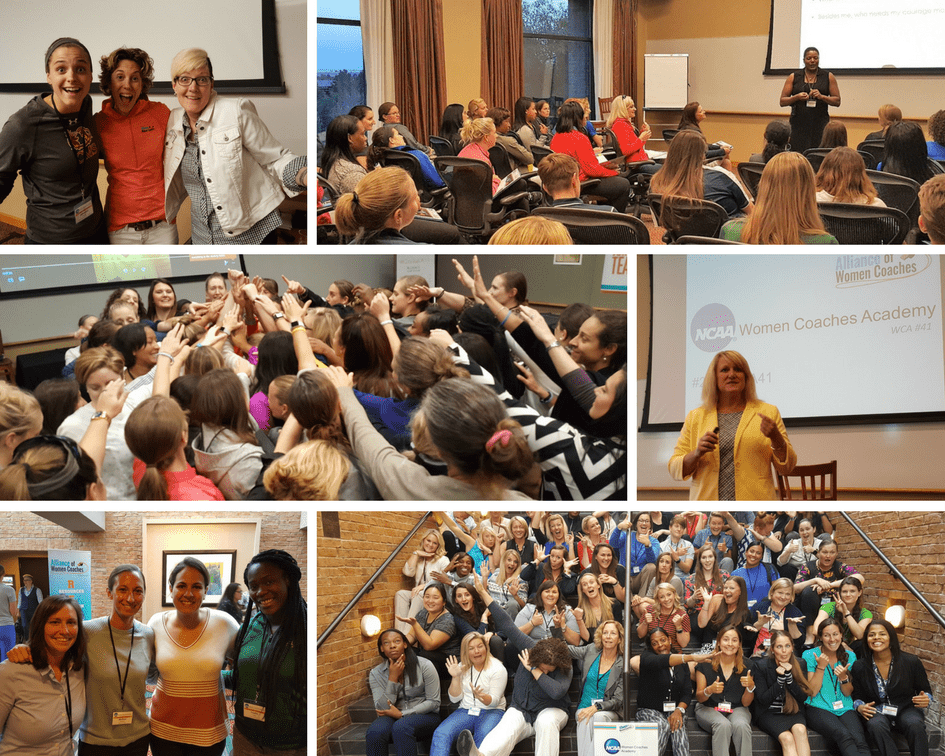 Of having the opportunity to present at the Academies, Liz says, "having the opportunity to contribute to the Women Coaches Academy is an absolute honor and something I look forward to each time. These next two Academies will be around the 25th time I've presented and I can say that each one is unique and each one is a phenomenal experience. I never tire of being able to immerse myself into a group of impress women Coaches who are committed to their profession, are passionate about their sport and dedicated to the student-athletes they lead."
As part of their preparation in attending the Academies, each coach completes their own CoachDISC Profile which is used throughout the program. (This includes a 12-minute online survey that results in their personalized CoachDISC Profile Report.) The CoachDISC Profile Report details their coaching style, strengths, limiting behaviors, communication preferences and the environment they perform best in.
Liz Masen says, "the first workshop I deliver is to debrief the coaches on their own CoachDISC Profile results and helping them to deeply understand their coaching style. By focusing on their own style and better understanding others, they find new ways to further improve their coaching and how they communicate with athletes, fellow coaches, administrators and others they work with. Importantly, through working with such a large and diverse group of coaches, they quickly see how similar and different they are, and how different coaching styles and more and less effective in different situations."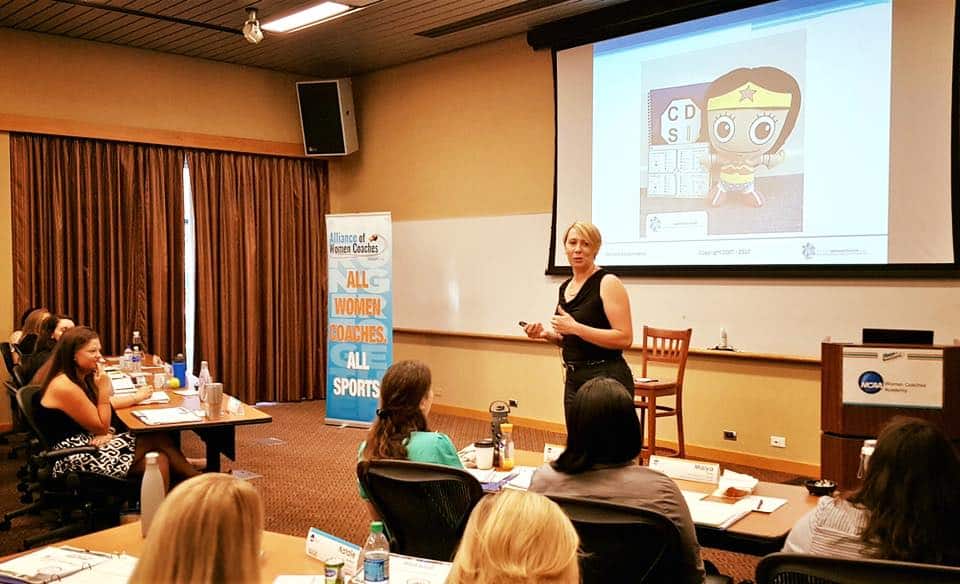 Liz also presents an intensive workshop of getting clarity on their values and purpose, and a dedicated master-class style workshop on effective communication.
"I'm lucky to have the morning sessions each day. I fill the sessions with relevant experiential activities so it's high energy and an impactful way to take in the information which applies directly to every day coaching. I get feedback that there are always a lot of 'ah-ha' moments."
The schedule for the 2018 Academy looks exciting and it's packed full of learning opportunities from Character Coaching to Game Plans for Inclusions and Strategies for Successfully Navigating Coaching. Liz says, "I love working with the Coaches and also I love working with the other facilitators. When I'm not presenting, you'll find me sitting in on the workshops and participating. Even if I've seen the workshop before, there's always something new for me to take in."
"When I leave each Academy, I find I've learnt just as much from the Coaches as I've shared." 

Background on the NCAA Women Coaches Academy

The Academy offers development and training in non-sport-specific program management strategies, with a special focus on philosophy development and building skills and knowledge about planning, communication, legal issues, ethics, hiring, supervising staff, and conflict resolution.

The academy is for women coaches from NCAA-sponsored sports at NCAA Division I, II, or III level. The first WCA session was in 2003, and since then some 43 academies have taken place, producing more than 1,650 graduates. Athlete Assessments has been involved with the Women Coaches Academy since 2009.

Along with the two Academies in June each year, the Alliance of Women Coaches also run a NCAA Women Coaches Academy in December and a 'Graduate' Program, WCA 2.0.
At Athlete Assessments, we're here to provide you with excellence in service and here to help you be your best. If there is anything we can assist you with, please Contact us.